Adnan Khan has just seen his side-hustle pay off in a mighty big way. The 22-year-old, based out of Rochdale, spends most of his days working in a mobile phone repair shop, but when he's not repairing phones, he's making and selling beats online.
Aspiring producers are aplenty these days, but "Menace", as he goes by on his YouTube page, posted up a beat in 2014 only for rising Brooklyn rapper Desiigner to buy the beat off him and use it for his hit-single "Panda". Desiigner's single went on to score nearly 2 million plays on YouTube, and its success arguably helped the 18-year-old MC earn a contract with Kanye West's G.O.O.D. Music label.
Seemingly in the process of making his seventh studio album, The Life of Pablo, Kanye then sampled Desiigner's "Panda", which led leading to Adnan's beat-making skills being featured on one of the biggest album releases of the year, namely on the track "Father Stretch My Hands Pt. 2″.
Speaking to FACT, Adnan said: "I didn't know the instrumental would be placed on the album until the last minute," and that "Kanye wanted to help his new signee Desiigner by putting him on the album and was also loving the production to it too."
Adnan naturally took to Instagram to share the good news.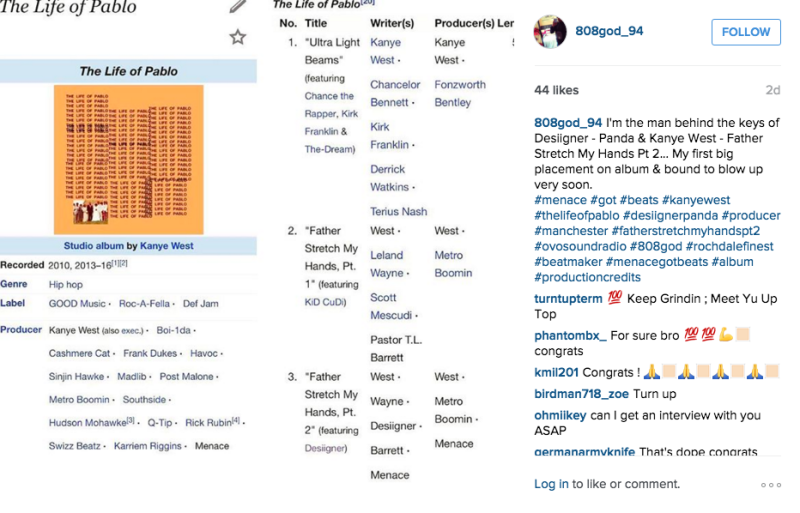 Adnan, please give up your retail day job—a career in the music industry beckons.
http://uk.complex.com/music/2016/02/kanye-west-adnan-khan-beat-maker