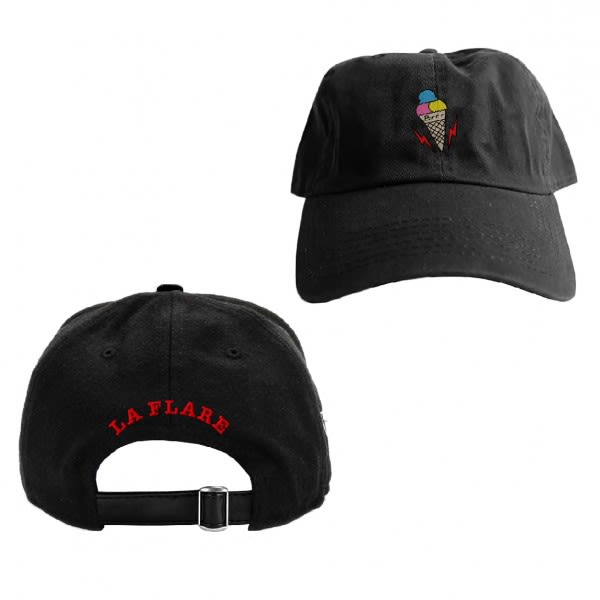 If reading the word "merch" still doesn't give you that nails-on-a-chalkboard feeling, boy do we have some good news for you. Two heavy-hitters, from completely different worlds, have jumped into the merch game with their own unique perspective on an assortment of items.
First up is Gucci Mane who released a couple of dad hats with the same ice cream cone that's tattooed on the rapper's face and will make ya say "brrr." On the back is Gucci's nickname, "La Flare." The hat comes in both black and white and, as Gucci wrote on Twitter, will make you "an important person." Thanks for the heads-up, Gucci. You can purchase the hats here.
Also throwing their shirts and hoodies into the ring are model sisters Gigi and Bella Hadid. The supermodel—YEAH, I SAID IT—sisters have released a line of merch that combines both their names to create "Belgie." The items also feature graphics inspired by Beyoncé and Jay Z's "On the Run" tour. Tees and hoodies read "On the Runway Tour" and a list of designer shows the pair has walked in are listed on the back of a tee. The collection is on sale at Urban Sophistication, which makes its own spin on merch, but worked together with Gigi and Bella for these items, according to Harper's Bazaar.
Gigi, Bella, and Gucci join the ever-growing list of people who have released merch this year, including every rapper who has released a mixtape once, people with over 1,000 Instagram followers, and anyone with the words "influencer" in their social media bio. Oh, and also people you care about like Kanye West—who will soon offer up his merch at 21 locations around the globe—Future, Drake, Lil Yachty, and Rihanna.