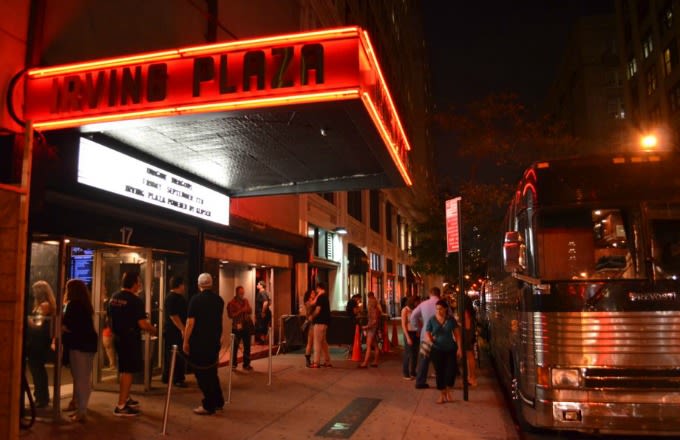 On Wednesday night, shots rang out during T.I.'s show at Irving Plaza in New York City. Four people—including Brooklyn rapper Troy Ave—were injured in the shooting. One of the victims, Ave's bodyguard Ronald McPhatter, died from his injuries. Details of the incident are still trickling in, but the NYPD announced today that the incident took place in the Green Room at Irving Plaza and escalated after a fistfight broke out. The identity of the shooter remains unknown, although New York Police Commissioner and stop-and-frisk architect Bill Bratton dismissively blamed the violence on the artists, citing "the crazy world of these so-called rap artists," which "basically celebrates the violence."
As information continues to come out, the topic of safety at shows has become a hot-button topic among rap fans. Should fans have to worry while trying to enjoy live music? That's the question and it will likely dominate conversations as we head into music festival season this summer. And while rap shows will never go away in NYC, there are now major question marks around whether venues will be scared to book hip-hop acts in the future.
Shabazz Varnie is a New York promoter who books the popular concert series Players Ball. She believes that the T.I. shooting will make it exponentially harder for rappers to play shows in the city. "I think they'll continue booking alternative rap shows, but if you don't have an official booking agent handling the biz, it's going to be super strict," Varnie explained. "The shooting will definitely make it difficult to book venues in the city for artists who associated with a street stigma. Some acts will be able to pass, and that will be due to they image and lyrical content."
Varnie saw firsthand that artists with a certain street persona could be turned away after her show with Atlanta rapper 21 Savage was forced to move from Webster Hall because of a strong advisory from the NYPD back in March. This was around the same time that Webster Hall canceled its weekly hip-hop party and implemented a new dress code for shows. "I don't totally understand the recent changes in Webster Hall's attendee restrictions, but it surely affected my 21 Savage event," she laments. "They said it's because of gang affiliations, so I guess I get it. I just think it's just discrimination towards street rap, which falls into trap music." It seems that things will only get stricter after the tragic shooting at Irving Plaza.
With the NYPD already cracking down on certain artists they consider as "street rappers," these difficulties haven't yet affected more alternative show bookings, such as Pigeons and Planes' popular No Ceilings series. "We've been booking hip-hop acts in New York for over a year now," says Jacob Moore, Pigenons and Planes' Editor-In-Chief. "We've never had any issues and nobody has ever given us a hard time, but we're also mostly dealing with up-and-coming artists, not high-profile rappers with widespread reputations."
The exact ramifications of the Irving Plaza shooting won't be seen until further down the line, but it's obvious that some promoters and bookers are worried about the future. "I'm sure there will be a larger police presence at hip-hop shows. It's hard to believe that venues won't want to think twice or have some pause about who they're booking," Alex Damashek, a talent booker from Move Forward music told Complex. Though Damashek said he hasn't had too much trouble booking shows for some rappers, he did say that tries to stay away from any type of show that might bring on potential trouble. "A lot of people who are outside the culture—could be police, venues, or bookers—I think it's hard [for them] to discern between a show that might be a problem and one that will be 100 percent safe," he explained. "I think right now it's hard to say how this could change things but the perception that these types of things and incidents can lend to the culture and industry at large are not helpful."
While the discussion will definitely revolve around how hip-hop booking will continue, both Varnie and Damashek brought up the fact that artists and their entourages usually don't get searched before a show. "Artists and entourage must get searched—especially after all of this. They tend to skip, but no one is safe," Varnie said.
It's currently unclear whether everyone involved in last night's incident was searched prior to entering Irving Plaza. "Venues themselves usually have their own in-house security team and I always defer to security because they're professionals. It's on a case-by-case basis," Damashek said. "I can say that artists and their entourages do make it difficult. I can't speak to what happened last night, and I don't want to make any implications because we have no idea. But I will say that artists don't like to be searched when they're coming in with their crew and that can make it difficult for venues because it toes the line of treating artists with respect and making them feel comfortable, but also keeping the building safe. It can be a tricky situation."
More and more fallout from this tragedy is likely to come out in the next few weeks as the NYPD investigates, but it's already clear that there will be a high amount of tension at shows in the next few months. From the artists and bookers, to the venues themselves, things are likely to change; the real question remains if things will change for the better, or whether rap fans will be able to enjoy safer shows.