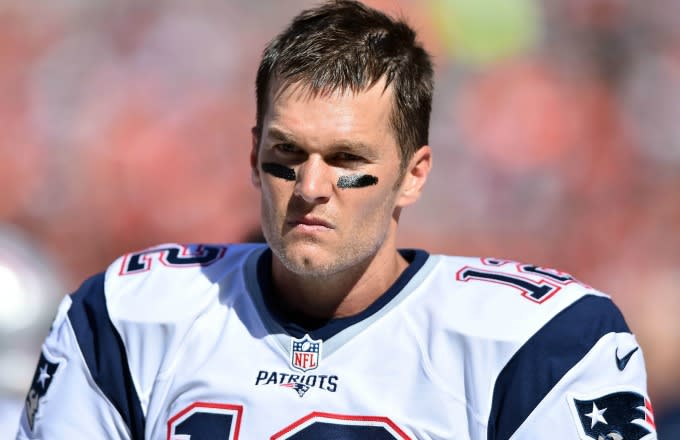 Tom Brady makes his long awaited return to Foxborough Sunday, when his New England Patriots take on the Cincinnati Bengals in what will be the start quarterback's first game at Gillette Stadium since returning from a four-game suspension last week. And if last week's bludgeoning of the hapless Cleveland Browns was any indication, Brady will once again be out for blood.
To commemorate the occasion, the Patriots are aligning their superstar with Jay Z in the form of a T-shirt featuring lyrics from Hov's "Public Service Announcement" off his 2003 magnum opus The Black Album. "Allow me to reintroduce myself," the shirt reads, as we can see thanks to ESPN's Sal Paolantonio.
This isn't the first time Brady's reappropriated Jay Z's iconography to let us know that he's the baddest QB in the game. In fact, just last week, Brady posted a mock up of Jay's The Black Album cover art, except his face was photoshopped on top of Jay Z's. The image was meant to promote Brady's new black-on-black TB12 hats, but it also felt like Brady wanted the world to know that much like his hip-hop counterpart, he's not a businessman. He's a business, man.
And when Brady does step out onto the field on Sunday—which he'll reportedly do to the tune of, you guessed it, "Public Service Announcement" —you can bet that he'll be all business. Sucks to be you, Bengals.