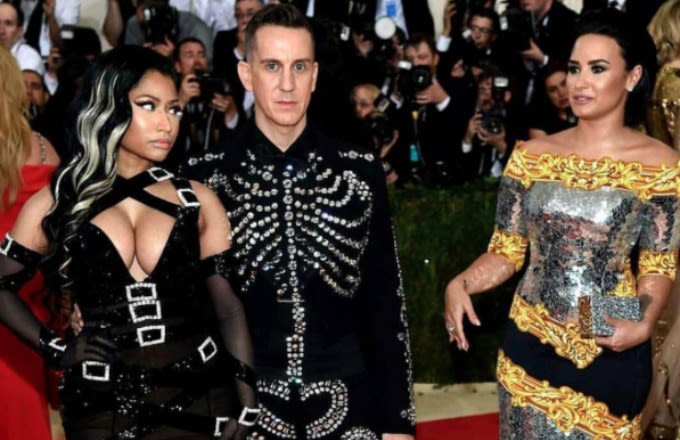 Nicki Minaj and Demi Lovato appear to be throwing some hard shade at each other over photos they took with Jeremy Scott at the Met Gala in New York City on Monday. Lovato originally posted a photo on Instagram, saying it would probably be her first and last Met Gala due to her being "#sofuckingawkward." She also added "#whatsgood," referencing Minaj's infamous confrontation with Miley Cyrus at the 2015 VMAs. Minaj appeared to be giving Lovato some pretty solid side eye in the photo.
After putting up the post, Lovato edited it and added a message to the caption when fans started to accuse her of throwing shade at Minaj. "P.S. some of y'all need to learn how to take a joke," she wrote. "I'm obviously laughing at the fact that 1. I look incredibly awkward and 2. That the shade being thrown in this picture actually gives me life."
Although the clarification would seem to be the end of it, Minaj then posted an Instagram photo of her, Scott, and Lovato without tagging Lovato in it.
It could have simply been an oversight on Minaj's part, but after all the awkwardness with Lovato's photo, that seems unlikely. Lovato eventually responded to Minaj's Instagram photo on Snapchat by writing, "When you aren't mentioned in a post but you didn't do shit to the person."
She also posted a confrontational—and NSFW—Snapchat video that seemed to be in reference to Minaj's photo.
While it's unclear if Lovato and Minaj are actually upset with one another, Lovato has been involved in social media beefs before. Back in February, she fought with fans of Taylor Swift on Instagram after Swift donated $250,000 to help with Kesha's legal case against Dr. Luke. We'll see if this alleged beef blows over quickly or not.