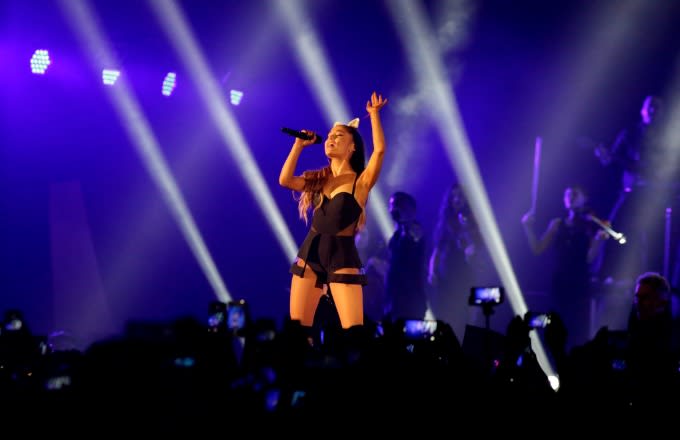 Ariana Grande surprised fans Thursday with a new song, "Knew Better Part Two," a track that seems like the sequel to her deluxe edition Dangerous Woman cut, "Knew Better/Forever Boy." That version of "Knew Better" only lasted about two minutes before easing into "Forever Boy," but "Knew Better Part Two" arrives like a fully formed version of the song.
As usual, Grande's vocals take center stage as she sings about a boy she used to date with a new-turned up beat kicking the whole thing from it's original sultry R&B into a booming post-breakup anthem. "Spent all of last night working on something y'all have been wanting for a long time and I can't wait to give it to you," she tweeted to fans before sharing the song.
She even ups her rap game that she first showed off while taking on Nicki Minaj's verse during her recent Tonight Show performance of "Side to Side." "I ain't even worried about it this time/I know he gon' be the one to treat me just right/Never had a motherfucker this tight/I look good, right?" she raps.
Rumors have been building that Grande is dating rapper Mac Miller, but the singer finally confirmed the news herself when she stopped by Ellen earlier this week. Many people are probably going to assume that he inspired the new track that compares her former flame with the new person in her life. Prior to Mac, Grande famously dated her backup dancer and Big Sean.
Grande even jumped on Mac's new song, "My Favorite Part." In an interview with Complex, Mac also touched on reconnecting with Grande. "We work really well together," he said. "She… I… we had a lot of fun in the studio. And I love… how incredible of a singer she is." Sounds like both Grande and Miller are doing well these days. Listen to "Knew Better Part Two" below.
spent all of last night working on something y'all have been wanting for a long time and I can't wait to give it to you

— Ariana Grande (@ArianaGrande) September 15, 2016
I love you

— Ariana Grande (@ArianaGrande) September 15, 2016
just wanna make you smile. that's literally it.

— Ariana Grande (@ArianaGrande) September 15, 2016