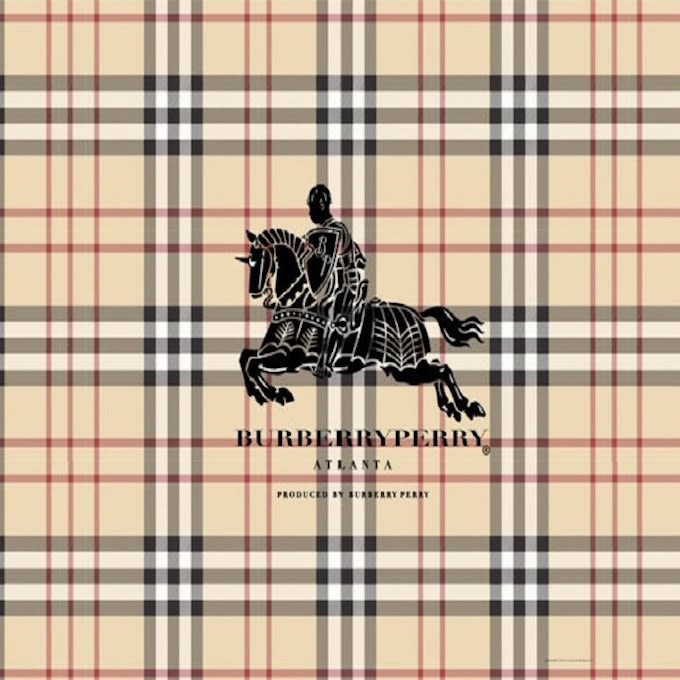 Burberry is suing rapper and Lil Yachty associate Burberry Perry over…well, isn't it obvious? In court documents acquired by TMZ, Burberry—the UK label that has been around since 1856—alleges that Burberry Perry—the Atlanta-based rapper—intentionally used its iconic logo, plaid pattern, name, and font for his benefit. The rapper, who used the Burberry plaid and horse logo on his self-titled mixtape, has been sent, and reportedly ignored, multiple cease and desists letters. Now Burberry is taking him to court, according to TMZ.
Of course, if Burberry Perry did want to fight for his stage name in court, it would be an incredibly difficult battle, according to The Fashion Law founder Julie Zerbo. "Burberry Perry ("BP") likely does not have stronger rights in the BP name than Burberry does," Zerbo told Complex via e-mail. "The design house has an array—upwards of 20 federally registered trademarks—that cover its name, check logo, and horse logo."
Zerbo also notes that in cases like these, the plaintiff (here, that's Burberry) must show that consumers could easily believe that the defendant (here, Burberry Perry) is somehow associated with Burberry. Here, too, Burberry has a strong case to make because of its "Burberry Acoustic" program, "a platform that provides music and exclusive videos from emerging artists who are carefully selected by Burberry," according to The Fashion Law's own post on the lawsuit.
Burberry is also claiming "trademark dilution," which would be an even easier case to for the label to win, according to Zerbo. In this case, Burberry doesn't even need to show that Burberry Perry is creating competition in the marketplace, only that the rapper "is impairing [the company's trademarks] in some way," Zerbo said. "I think this would likely be an even easier case for Burberry to make, due to the extensive use of profanity that BP uses in his songs, which Burberry specifically mentions in its complaint."
Design houses are typically ruthless and unaccommodating when it comes to even the slightest infringements or "trademark dilutions." Chanel famously sued a woman named Chanel Jones who started her own business and called it "Chanel's Salon." The woman lost this case. "It is a well-settled fact that an individual does not have an unfettered right to use his/her personal name for commercial purposes," Zerbo said. "Individuals may use their names—whether they are 'stage names' or birth names—freely in a personal, non-commercial capacity, or to otherwise identify themselves but may not use that name in a manner that suggests an affiliation or relationship with an established trademark holder."
And before we all jump down a massive company's throat for suing an up-and-coming rapper, we must realize the unique way that trademark law works. Zerbo notes that trademarks, unlike copyrights or patents, can last forever as long as they don't become "generic" and become associated with "the name of a product itself as opposed to identifying an exclusive source of a product," she explained. In layman's terms, Burberry can't risk its logo and signature plaid pattern becoming diluted, because then, the company may well lose its ability to trademark these designs. "As a global luxury brand, Burberry considers the protection of its intellectual property vital for the health of its business and to safeguard its customers," a Burberry spokesperson told Complex. "As such, Burberry goes to great lengths to protect its creative designs and will take all necessary action against the abuse of Burberry trademarks."