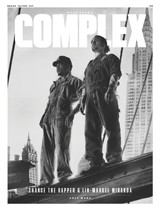 It's around 9 a.m. on a brisk New York Friday when Chance the Rapper and Lin-Manuel Miranda meet at a photo studio in Chelsea. Within the hour, they're dressed in dingy overalls and covered in oil, faces smeared with dirt.
They've both taken a brief recess from their hectic schedules to scale steel I-beams on the makeshift construction site Complex has created for their cover shoot. In just a few hours, Chance will head back to Chicago, where he's been diligently working on his Acid Rap follow up. Miranda will return to Midtown to prepare for another performance of his critically-acclaimed musical, Hamilton. Still, they're cordial and at ease with each other, exchanging laughs in between flashes from the camera.
When they eventually break from shooting to chat, their conversation doesn't miss a beat. After a few pleasantries and catch-ups are exchanged, talk drifts to the similarities between Alexander Hamilton and Eminem. Drawing parallels between a Founding Father and a Detroit rapper may seem like a stretch for most, but for these two, it's easy to see the connection. Both, they point out, were driven by an urgency to create, innovate, and rewrite the rules in order to win.
Our cover stars share that same sense of obligation, along with the faith that success is within reach if you're prepared to put in the elbow grease. Last year, Miranda gave Broadway a dose of adrenaline by weaving inspiration from his favorite rappers into Hamilton. What could've been a snoozer of a history lesson finds the perfect complement in rap music; Hamilton himself lived the archetypal hip-hop story, building from the ground up and dismissing failure as an option, obstacles be damned.
Things are coming full circle for Miranda, who's honed his talents in musical theater for more than 15 years. The New York native won a Grammy for his acclaimed musical, In the Heights, in 2009. That same year, he took his big shot by debuting a portion of an experimental, hip-hop inspired composition then-named "The Hamilton Mixtape" at the White House Poetry Jam. He couldn't have imagined how things would unfold from there.
In 2016, Miranda was invited back to both the Grammys and the White House for some well-earned recognition. He picked up his second award for Hamilton, which was recently nominated for a record-breaking 16 Tony Awards, and is now perpetually sold out on Broadway, with the price of resale tickets often running more than $1,000. And the cast accompanied him on this trip to 1600 Pennsylvania Avenue for an intimate performance of the show, which regularly boasts an audience packed with everyone from celebrities to suburban moms, all wildly cheering for battle rap scenes between Alexander Hamilton and Thomas Jefferson.
Chance the Rapper is one of those passionate Hamilton fans. So passionate, in fact, that he's collaborated with Miranda, and contributed music to the Hamilton mixtape. It's no surprise that the Chicago native was drawn to the musical's headstrong hero and its colorful cast of characters; he's always pushed boundaries for the sake of creativity.
When Chance dropped his acclaimed Acid Rap mixtape in 2013, he refused to accept the standard record deals thrown his way. Instead, he committed to becoming a fearlessly independent artist, and has continued to subvert archaic music industry standards. He went on to partner with Apple Music in a rare deal to release Donnie Trumpet and the Social Experiment's collaborative Surf album for free, and made history by becoming the first independent artist to ever perform on Saturday Night Live. Then he did it again, with Kanye West, to debut their collaboration, "Ultralight Beam."
Now, Chance is settling into a conversation with the biggest star on Broadway. For the next half hour, he and Miranda volley back and forth about their legacies, the state of American politics, and how to answer the call when opportunity knocks.