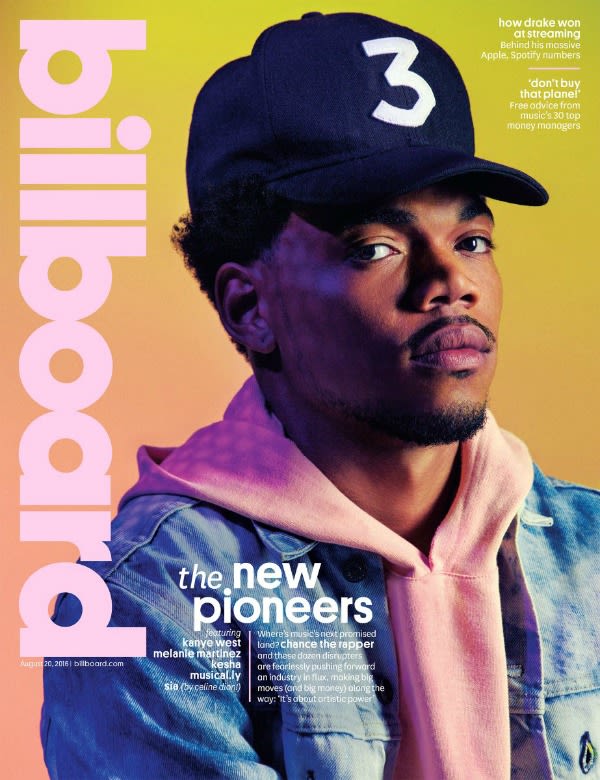 Chance the Rapper continues to dominate the music industry, scoring the latest cover of Billboard, where he opens up about his life as an unsigned artist, what fueled his need to return to Chicago, and working with his mentor, Kanye West.
The Chicago rapper is famous for refusing to sign with a major label, even though they have pretty much been banging down his door since the beginning. It's a situation he references directly on Coloring Book's "No Problem." "It's not about the music being free," he tells Billboard, in reference to giving away his first projects. "It's about how it is displayed and made accessible and about artistic power."
There is no question that Chance has leveraged his artistic power with his latest album, Coloring Book. The release became the first streaming-only album to chart on the Billboard 200, opened in the top 10 and motivated the Grammy Awards to make streaming-only albums and songs eligible for awards.
The interview shifts to Chance's Xanax addiction after moving to Los Angeles, which he admitted on his song, "Finish Line/Drown." "I looked up and months had passed, and I hadn't made enough music." It was around this time that he also felt a need to get back to Chicago. I missed a lot of weddings and funerals."
From there, Chance wrote his mantra, "Get back to work," on the mirror. Kanye West invited him to work on The Life of Pablo and Chance witnessed his mentor and favorite rapper rent out an entire studio as he simultaneously directed the writers, engineers, and producers in each room. "I watched him knock out six, seven songs that way," explains Chance before admitting he stole the method to finish Coloring Book, sleeping in the studio overnight on inflatable mattresses.
Now, Chance is focused on his girlfriend, Kirsten, their daughter, Kinsley, and preparing for his Magnificent Coloring Day in Chicago this September that will break the White Sox's stadium's attendance record with more than 50,000 tickets sold. "It's bigger than me fucking with the Sox and bigger than me being a rapper…I think the city needs some happy moments." After that, he will set out on his Magnificent Coloring World Tour this fall. You can read the rest of Chance's interview here.