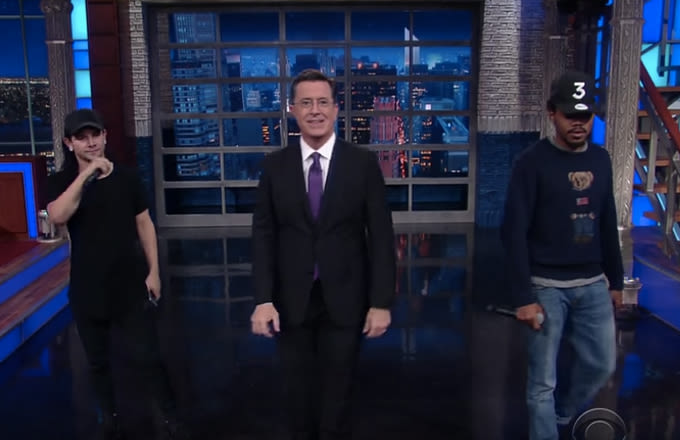 Last night, Complex cover star Chance the Rapper performed his recent collaboration with Skrillex and Hundred Waters, the remix of "Show Me Love," on The Late Show With Stephen Colbert. During the performance—and his hilarious segment called "monologue remix" with Colbert and Skrillex—he wore a Ralph Lauren Polo Bear Sweater.
As the story goes, the Polo Bear came about after Lauren received a Steiff teddy bear wearing a signature RL Western outfit as a birthday gift from his design team in the late '80s. The designer liked the gift so much, he eventually sold it in his stores and made it available to consumers. In 1991, following the popularity of the teddy bears, Lauren placed the image on sweaters. Thus, the Polo Bear sweater was born.
"It was expensive and it was flashy," says Thirstin Howl III, rapper and founder of the Brooklyn collective known as the Lo-Lifes. Thirstin admits he wasn't a big fan of the Polo Bear at the time—the sweaters didn't fit him and he just saw it as another logo. But, he says there were definitely members of the Lo-Lifes who were fans. "When it first came out the hype around it was that it was a new logo, and you knew you were gonna get it before anyone else."
"The Polo Bear is iconic hood gear because irony is NEVER wasted on people really from the 'hood (working class people)," Dallas Penn, a big Polo fan, told Complex in another interview. "The level of swag being accomplished by rocking an executive bear knit while wearing Levi's 501s and Air Max 95s is an all-time official 'Fit​."
Ralph Lauren stopped making the sweater but, in the fall of 2013, re-released it as part of its "Bring It Back" series—a curated list of iconic items from previous collections. The iconic Polo Bear sweater is currently sold out at Ralph Lauren, but there are a few vintage ones on eBay.