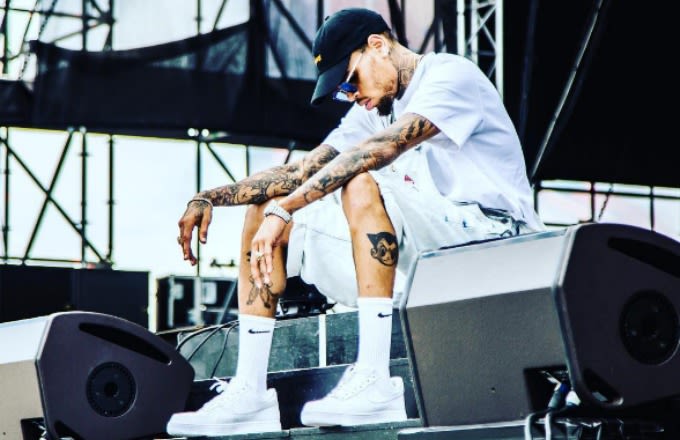 It's no secret that many are grappling with a lot right now and Chris Brown is leaning into music to deal with it all through his new song, "My Friend." The piano-ladden ballad opens up with soft chords before Brown comes in crooning emotional lyrics about missing someone.
"What is this world without love?" Chris asked on Twitter before fully noting the inspiration behind his new song. "This song I released for free for anybody dealing with injustice or struggle in their lives."
In the last 48 hours, Alton Sterling and Philando Castile were both shot and killed by police in their respective cities. Sterling was gunned down outside the store where he usually posted up to sell CDs. Castile was killed during a routine traffic stop in front of his girlfriend and daughter with the aftermath airing on Facebook Live.
Many artists have taken to social media to express their outrage over recent events. Drake penned an open letter about Sterling and noted that it's impossible to ignore the strained relationship between black and brown communities and law enforcement. Chance the Rapper, Desiigner, and John Legend have all jumped on social media to question recent tragedies. "Is there any situation where police get arrested? Or convicted?" Chance asked.
It's unclear if Brown just penned this song in the wake of recent events or if this is a song he wrote at a different time. Still, it's tender sentiment is clear and universal and that Brown wants to comfort anyone going through it today. Listen to "My Friend" below.
What is this world without love? https://t.co/Tvgltmenhm

— Chris Brown (@chrisbrown) July 7, 2016
This song I released for free for anybody dealing with injustice or struggle in their lives. https://t.co/Tvgltmenhm

— Chris Brown (@chrisbrown) July 7, 2016
@chrisbrown you're amazing

— kenza (@gilinsides) July 7, 2016
@chrisbrown god bless your amazing soul! Thank you Chris. We love you so much :*

— A B H I E (@ItsabhieBREEZY) July 7, 2016
@chrisbrown thank you this is just what I needed today 🙏🏼❤️💙

— Char (@Chaziex) July 7, 2016