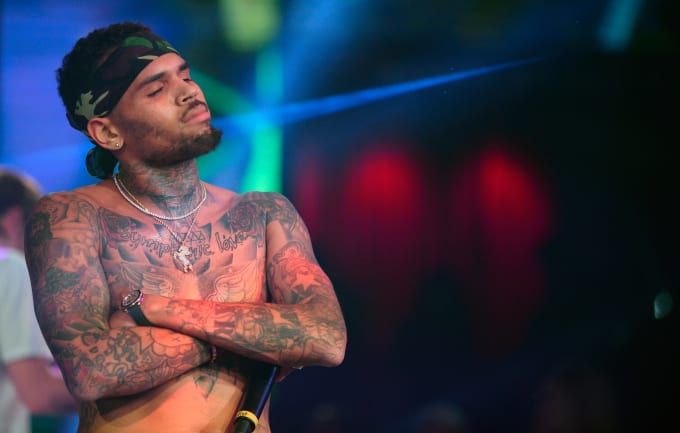 Is there a vast conspiracy to lock up Chris Brown? Many of the singer's fans and some casual observers seem to think so.
As you probably know by now, Brown was arrested Tuesday and charged with assault with a deadly weapon following an incident where a woman claims the singer pulled a gun on her in his Los Angeles home. Brown has since been released on $250,000 bail and a police investigation is underway.
Conspiracy theories speculating on the legal system's continued interest in Brown began swirling almost immediately after news of his latest arrest broke, started perhaps by the singer himself.
"I'm way too tired to be dealing with this bullshit," Brown said in video he posted to Instagram while police secured a warrant to enter his home. "Every three months y'all come up with something, bro. What is it? What's gonna be next? … I'm innocent, fuck everybody. I'm tired of hearing this shit."
Many seem to agree that there's something not quite right about the latest case against Brown, but offer different explanations for why they believe the singer is innocent but once again in legal trouble.
The Quick Come-Up Theory
As Brown's attorney, Mark Geragos is the most foremost proponent of the theory that Brown's accuser, Baylee Curran, is an opportunist looking for a payday from the troubled singer, a line of thinking supported in part by Curran's own alleged criminal history and the optics of her making a number of media appearances the very day of the alleged incident.
Idk what happened inside Chris Brown's house, but it's always a red flag to me when someone goes on a media tour the DAY of an incident…

— Nina Parker (@MzGossipGirl) August 31, 2016
"Unfortunately, for a lot of these guys who have kind of this wealth and celebrity at a very early age, they become targets, and so it would not surprise me," Geragos said Tuesday on his Reasonable Doubt podcast. "I can think back to a case he had in Vegas, same thing, that he was the target, somebody was making false accusations, we were able to prove it. So I'm always reticent to rush to any kind of conclusion until I do some kind of investigation."
The theory that Brown's arrest is the result of a scheme by Curran was also endorsed by Tariq Nasheed, a social media figure known for his Hidden Colors documentaries and controversial commentary on race. Nasheed shared his thoughts on the supposed plot against Brown in a lengthy Instagram post.
"So this woman is going to hustle a big payout from Chris by playing this 'victim of the abusive Black man' role," Nasheed wrote. "Another suspected white supremacist female tried to pull the same type of scam on Chris Brown in Las Vegas earlier this year. So Melanoid people PLEASE be careful who you AND who your associates bring around."
The Baby Mama Theory
Another popular theory regarding Brown's arrest is that it's the result of a more elaborate scheme by Curran and Nia Guzman, the mother of Brown's daughter Royalty, to secure full custody of the child for Guzman and ultimately increased child support.
Complex reported before on the extended family court battles between Brown and Guzman. Well, the singer won big in May after a judge ruled, despite Guzman's objections, that Brown be given joint custody of their daughter. The decision left the $2,500-per-month child support agreement between Guzman and Brown intact when, according to reports, Guzman was asking for an increase to $15,000 a month.
Shortly after Brown was arrested, Guzman's attorney made a statement to E! News that two-year-old Royalty was present during the alleged assault, a fact that would undoubtedly jeopardize Brown shared custody. Brown's attorney has denied that Royalty was in the home during the time of the incident, calling the claim "categorically untrue ." Bizzarely, Guzman also denied the claim somewhat to popular gossip blog The Shade Room Thursday.
"I've never released a statement. I have nothing to say," she wrote in a comment to the blog's Instagram account.
In an unexpected twist, Chris Brown fans have also pointed out that Guzman is one of the 281,000 people following Curran's private Instagram account, causing some to speculate that the two worked together to frame Brown.
Tbh I Think This Is Whole Chris Brown Situation Is A Plot By His Baby Mother To Make Him Look Bad Cause He Won Custody Of Their Daughter 🤔

— WatsLifeWithoutDrake (@DecemberssOwn) August 30, 2016
The conspiracy theories around Brown's latest legal drama will not likely be resolved until the case against him is fully investigated and, perhaps, goes to trial. In the meantime, Brown's attorney Mark Geragos says his client is cooperating with police and is confident Brown will, "end up in a good place." That's not likely to stop the conspiracy theories, though. The latest being of course that Brown is a victim of the Illuminati.