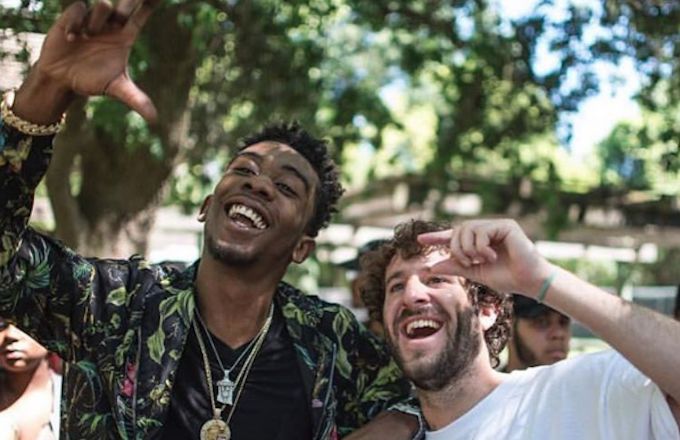 Desiigner's No. 1 song "Panda," is completely dominating radio, summer, and everything else, but that doesn't mean the G.O.O.D. Music artist wants to skip out on his teenage right to prom, which is exactly where he headed with his friends Tuesday night.
Desiigner took to Snapchat to share a video of his friends doing things normal teen crews do, like getting hype for their one and only prom. Of course, in Desiigner's case, he headed to prom in a beautiful Rolls Royce, dripping in gold, styled perfectly in an all black suit. "You know what time it is," he shouts into the camera in the video. The rest of the clip shows the rapper rolling up to the venue before letting loose inside as Drake's "Controlla" blasts through the speakers in the background.
It's hard to remember that the rapper is only 19 years old with all of his success, which includes a co-sign from Kanye West, a network television debut on The Late Show with Stephen Colbert, an appearance at Puff Daddy's Bad Boy reunion concert, and a debut album on the way. Fans echoed that sentiment on social media:
Desiigner is at his prom night & his song panda is for sure going to come on loooooool

— trillesssst (@ITssalmaaaaa) June 1, 2016
Ain't understand nothing he said but Prom lol RT @IamAkademiks: Desiigner goes to prom. pic.twitter.com/fMZUqDV10R

— Hezzus (@Hezzy610) June 1, 2016
Hahahahaha desiigner went to prom 😭💀 #1 song in the country and my mans at his high school prom lmaoo

— jack (@jaackxx) June 1, 2016
Desiigner is a prom snapping 😂😂😂

— JULIORSSS (@JulioJrr) June 1, 2016
We only wish there was video of Desiigner's reaction when the DJ played "Panda" last night, because of course he did.