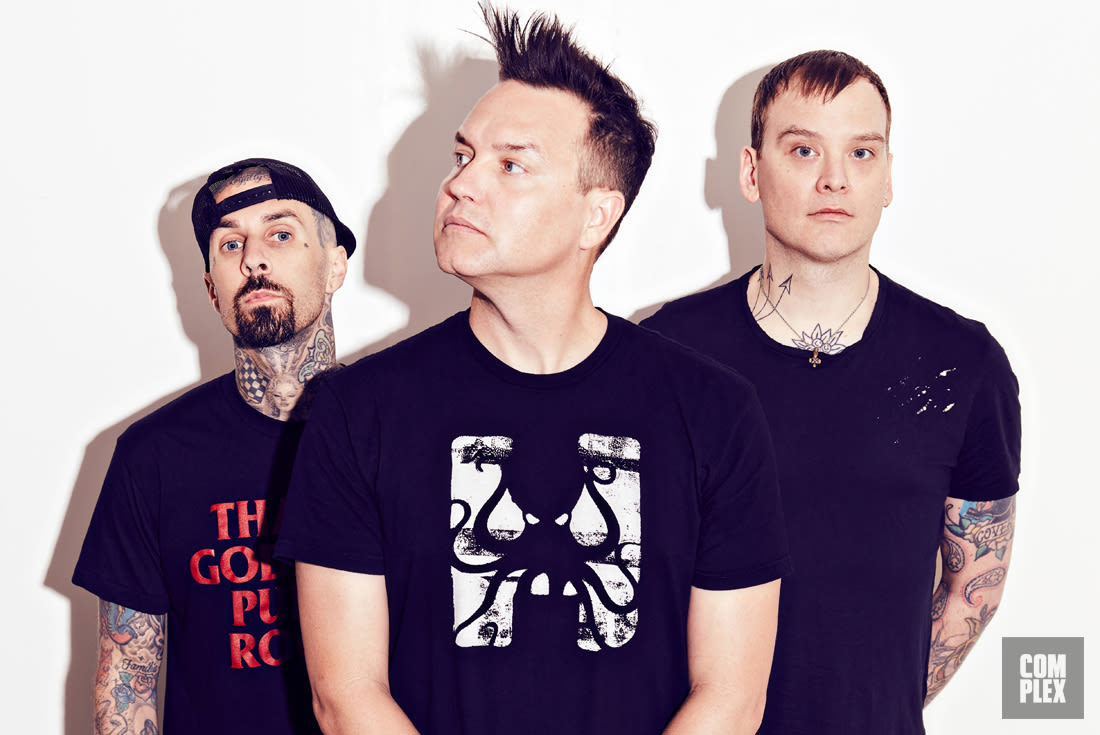 In 2016, it's awfully hard to get Blink-182 to undress.
"You're really all for us getting naked, huh?"
I've casually brought up the whole naked thing for the third time during my interview with Mark Hoppus, Travis Barker, and Matt Skiba, but I'm met with jaded reluctance, and not just because we're sitting in an ugly conference room at New York's London Hotel.
In the '90s, the pop-punk trio had no problem going bare. They streaked in their music video for "What's My Age Again?" and subsequently stripped down for a live MTV performance in 1999 (while the band went shirtless, Hoppus wore nothing but socks and sneakers). The album, Enema of the State, featured porn star Janine Lindemulder on the cover—a sexy nurse, flashing a salacious smile—and went on to become the record that soundtracked so many coming of age stories. When I tried to buy the album at a Sam Goody at the tender age of nine, my mother took one glance at the cover and, with horrified disgust, gave me a stern, Asian-mother "No."
Now in their 40s, Blink-182 isn't really doing the kinds of things that would give mothers a heart attack anymore. On July 1, they release their 7th studio album, California, full of similar pop-punk anthems, but not as rated R.
"Well, we still get naked in rehearsals," Barker, 40, jokes.
"It's just no one's there to see it."
The whole nudity thing is brought up because of their new 17-second-long single, "Built This Pool," which contains just one verse: "I wanna see some naked dudes/That's why I built this pool." That they would release a 17-second-song, about naked dudes of all things, as a single (and post it on YouTube as a 10-hour loop) seems like the kind of trolling on-brand with the Blink-182 persona we've come to love. The sound is reminiscent of old-school Blink as well: loud, angular guitars, thunderous drumming, tongue-in-cheek lyrics.