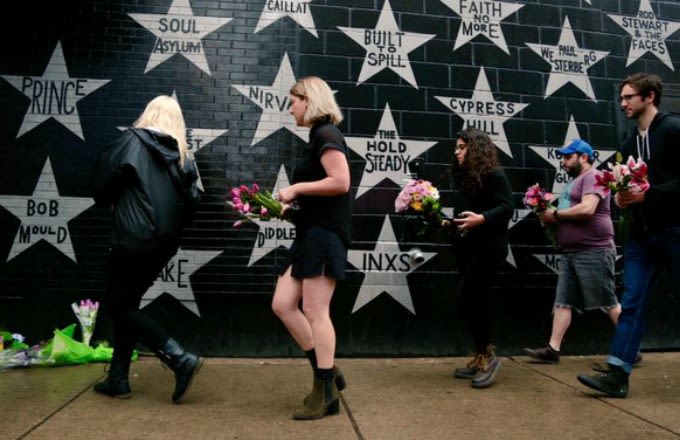 Earlier today, Prince passed away at the age of 57 and tributes from the likes of President Barack Obama, Frank Ocean, and other celebrities have been filling social media. Still, many want to celebrate the impact of his life, including famed Minneapolis club First Avenue that The Purple One helped put on the map.
All throughout today, First Avenue employees have been laying flowers along the club's well-known, star-filled wall. To commemorate his life, the club is throwing an all night dance party tonight in their main room. The event is 18+ and there will be no cover. Mike 2600, DJ Jake Rudh, and DJ Espada will be taking care of music and will undoubtedly be filling the space with the musical legacy Prince has given us over his decades long career.
If you're not familiar, Prince popularized the club by using it as the location for many scenes in his movie, Purple Rain. "Prince was the Patron Saint of First Avenue," the club wrote on Instagram. "He grew up on this stage, and then commanded it, and he united our city. It is difficult to put into words the impact his death will have on the entire music community, and the world. As the tragic news sinks in, our thoughts are with Prince's family, friends, and fans. We deeply mourn the loss of our friend, a true star." You can get all the information you need on the evening's Prince party here. You can also read all about the unparalleled vision of Purple Rain here.
First Avenue employees silently file out to lay flowers #RIPprince pic.twitter.com/Gocil2g4EC

— bengarvin (@bengarvin) April 21, 2016
All Night Dance Party. Tonight.
11:00PM | 18+ | No Cover | First Avenue pic.twitter.com/ptm7r9BjRR

— First Avenue (@FirstAvenue) April 21, 2016