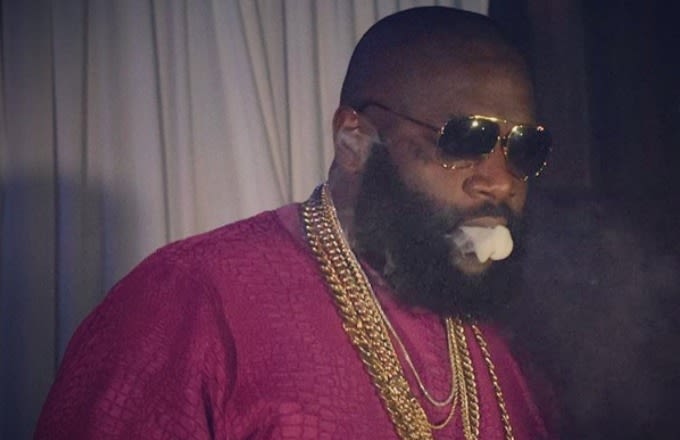 A federal indictment of almost 50 alleged gang members last week confirms that Rick Ross was on the receiving end of online gang threats in 2012. Ross was targeted with threats in a YouTube video, telling him he needed to pay the Gangster Disciples for the use of its name and symbols after he put a six-pointed star on the cover his mixtape Black Bar Mitzvah. In the released documents, which you can view here, four gang members are accused of threatening Ross with physical harm in 2012 because he used their symbols.
Many believe these threats led to the cancelation of his 2012 Maybach Music Group Tour, although Ross officially cited poor promotion as the reason for the tour not going forward at the time. Not too long afterwards, Ross was the victim of an attempted assassination in a 2013 drive-by shooting in Fort Lauderdale, Florida, although the indictment does not directly connect that incident to the gang threats. Ross also held an office in an Atlanta recording studio that was subject to a drive-by shooting last July, but the connection between that event, himself, and the 2012 gang threats is unclear.
Regardless, this is the first taste of confirmation that the online gang threats in 2012 were indeed real, and that its very possible they were behind the 2012 MMG Tour cancelation. Ross signee Wale spoke about the gang threats and shooting incident back in February 2013, decrying the media and fans for making light of the situation. "I think the whole thing has been blown up. I think the media is perpetuating a lot of things. God forbid something happens to anybody, that they're gonna be playing people's records all day and acting like they care," he said. We've reached out for a comment from Ross' reps and will update when more information is available.