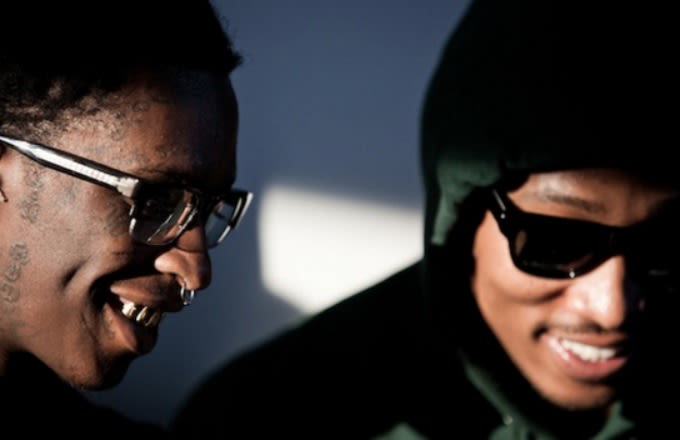 Despite a long history of beefs and disagreements, Young Thug and Future linked up in the studio late last night alongside Wheezy and DJ Esco. A tweet and snapchat from Wheezy confirmed the reunion.
Studio flowww w/ @youngthug @1future @EscoMoeCity 🔥🚷🌊🚷🌊🔥🔥🔥🏄🏽🐍

— wavewavewavewavewave (@wheezy5th) June 28, 2016
Future and Thugger back in the studio 🔥🌊🔥🌊🔥🌊🔥🌊 pic.twitter.com/mFanIjMosJ

— bedhead (@Thundathundaa) June 28, 2016
Future and Young Thug have long held a simmering beef. It most recently popped up back in February, right when Future was getting ready to drop EVOL. Future and Thug traded some subliminal shots on Twitter, with Thugger telling Future to "slow down dropping all that BS music."
Boy slow down dropping all that BS music…😭😂✌🏾️

— Young Thug ひ (@youngthug) February 3, 2016
Yo bitch wish u was me…in real life

— FUTURE/FREEBANDZ (@1future) February 3, 2016
Yo family/team wish u was me lil nigga….

— Young Thug ひ (@youngthug) February 3, 2016
Metro Boomin even addressed their feud during his Fader cover story interview in April. "You can't have either one of them feel like you fucking with the other one more than them," he said. "Either one of them would be offended… Neither one of them are the type to settle for number two. I feel like they both motivate each other, and it's good for the culture and the music—just as long as it stay at that."
It looks like despite the sometimes-strained relations between the two parties, they've put their differences aside to work on new music together. Both artists have already had prolific years—Future with Purple Reign, EVOL, and Project E.T. Esco Terrestrial, and Young Thug with I'm Up and Slime Season 3—so it's about time that they combined forces. Hopefully we'll see the results of their work soon.