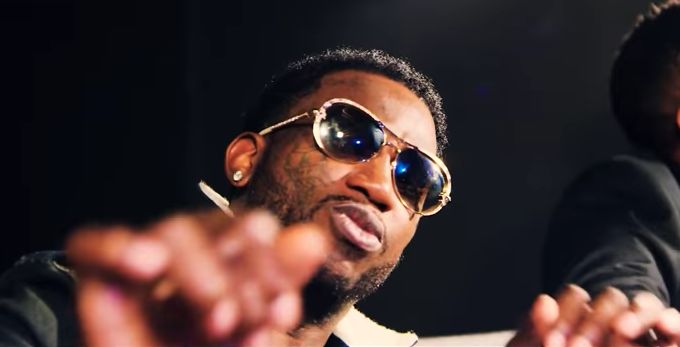 Gucci Mane premiered his video for "Gucci Please" on Vogue earlier Tuesday and gave the outlet an interview about his ongoing effort to be a style icon. Gucci's new slim figure has allowed the rapper to experiment more with clothing and he's certainly taking full advantage of it.
"Before I was incarcerated, I had gotten so overweight that I couldn't fit into any of the clothes I wanted to wear," he told Vogue. "So with the time I was away, I decided I was going to lose weight so I could be able to wear all the brands that I really like." We've already called Gucci a summer sixteen style icon and he also covered The FADER's fall fashion issue.
In the video for "Gucci Please," Gucci Mane wears a Balmain shearling coat that he couldn't even fit into before his weight loss. He said that he's been able to enjoy fashion much more ever since he lost so much weight people claimed he was a clone. Gucci told Vogue his favorite designers are "Givenchy, Balmain, Buscemi, and Christian Louboutin." He' also gotten into the new Gucci. "I am a huge fan of the Gucci brand, they have some nice stuff out right now," he said. "They have some glasses I really want. I love Gucci clothes as well. I recently bought a Gucci sweat suit, and some Gucci slides, and I also bought my girl some Gucci slides too." Fingers crossed he decides to wear all of this together.
Chances are, Gucci bought all this online and not just because the rapper is on house arrest. "I used to be like, 'Bring the clothes to me and I'll see what I like and what I don't like,' or, 'Send me pictures of stuff,' and go from there. But now, I just Google designers I like to find the clothes I want to purchase—I feel like it's easier. I can go to 50 shops online, but if I go to the mall I only have a select couple of stores I could go to."
You can read more of Gucci's thoughts on his weight loss, style evolution, and the crossover between rap and fashion—"I love the way the young kids take chances with what they wear," he said—here.