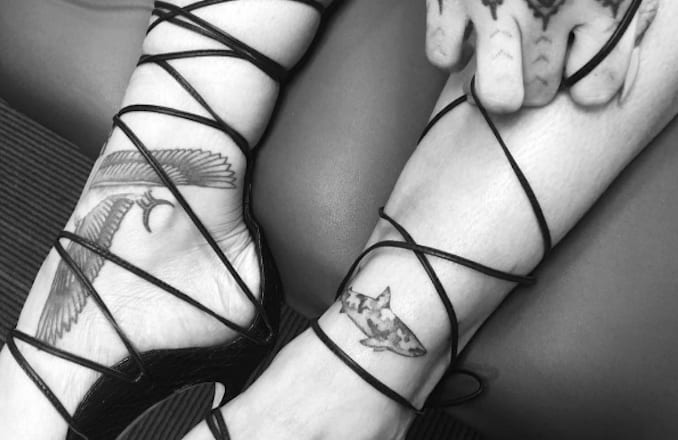 If the kiss Drake and Rihanna shared on stage last night wasn't enough to confirm their relationship status, her new ink seemingly does. New York City-based tattoo artist Keith McCurdy a.k.a Bang Bang made a trip to Miami yesterday to ink up Rihanna and Drake. 
We aren't sure yet what Drake got done, but according to pictures shared by Bang Bang, Rihanna got a small camo-covered shark on her ankle. But, as many have already pointed out, it isn't just any shark. Her new tat appears to be inspired by the stuffed camo shark that Drizzy gave to her during a date at Ripley's Aquarium of Canada. Drake reportedly rented out the aquarium earlier this month for a romantic late-night dinner in front of the fish tanks, where he gifted Rihanna the camo shark stuffed animal. 
The camo shark also made an appearance in one of Drake's recent Instagram posts. After presenting Rihanna with the Video Vanguard Award at the VMAs, Drizzy posted a photo of himself and RiRi holding the stuffed animal. 
Ripley's has also confirmed that the shark did indeed come from its gift shop.
Now we can't wait to see what kind of Rihanna-inspired tattoo Drake might have gotten.
We reached out to Bang Bang and will update when available.