Inside Houston's Warehouse Live on a warm, rainy night, Daniel Daley—one half of dvsn, the R&B duo signed to October's Very Own—stands on stage looking out at a packed crowd. He has the audience in the palm of his hand. It's far from Daley's first show, but it may be the most important.
It's September 5th, the namesake of dvsn's debut album and a marquee event during OVO's annual Houston Appreciation Weekend. For an act like this, solo shows with this kind of spotlight don't always come along often and they aren't opportunities to be wasted. Daley, along with his bandmate, superproducer Nineteen85 ("Hold On, We're Going Home," "Hotline Bling," "For Free"), aim to make their night in the legendary Houston venue one to remember.
This was, after all, the same Warehouse Live where Drake made his live debut in 2009, a moment memorialized on "Too Much:" "Backstage at Warehouse in '09 like is Bun coming?/Fuck that, is anyone coming? Before I show up up there and there's no one there," Drake rapped on the Nothing Was the Same stand-out. The venue wasn't empty, as Drake feared, but sold out. dvsn repeated his feat; the space was packed hours before I rolled up from a hotel in downtown Houston a few miles away.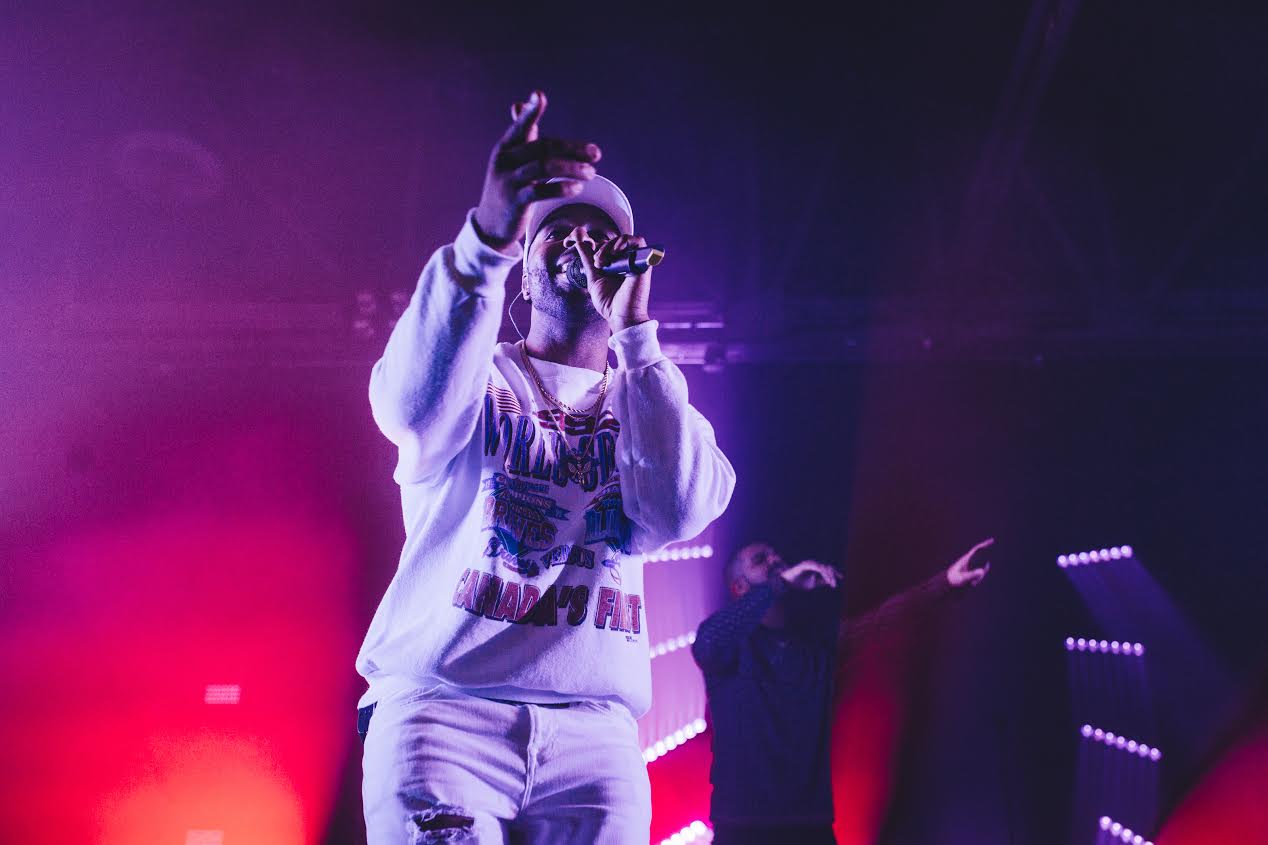 I didn't order the Alfredo pasta at V-Live—Drake's suggestion on "No Tellin"—but I did learn that the H-Town nightlife scene lives up to the hype. Houston is OVO Sound's—and therefore dvsn's—adopted hometown. The Toronto label's infatuation with the city dates back to Jas Prince discovering Aubrey in 2006 and flying him to the city to meet Lil Wayne. The rest was history and, since then, OVO has nurtured a special relationship with the city, throwing these "Houston Appreciation Weekends" for the past three years. My first trip to the city didn't disappoint: There were strippers, whiskey, hangovers, and faded adventures through an abandoned, ghostly downtown. It's a cliche, but I found myself listening to Paul Wall's "Drive Slow" verse too often and wondering if I should just permanently relocate to Texas.
As on Drake's the Summer Sixteen tour, OVO signee Roy Woods opened the night,prepping the crowd by running through a number of the standouts from his recent album, Walking at Dawn. From my view on a riser, surrounded by Rap-A-Lot chains and OVO merch, the vibe of the crowd was a heady mixture of tension and excitement, with fans buzzing wondering what dvsn had up their sleeves.
This wasn't just another show, something that became apparent when Daley made his way onto the stage, locked in, crisp from the earliest notes, and he confidently ran through his hits "Too Deep," "With Me," and "The Line," to the pleasure of the deafening crowd. Backed by a trio of gospel singers, who transformed Warehouse Live into a church service at various points, Daley orchestrated the crowd expertly while Nineteen85 looked on from the sound deck across from the massive sea of people in the sold-out venue. Of course, with any special OVO concert, there were plenty of surprises on the way.
While the crowd knew special surprises were on deck, everyone still lost it when Warehouse Live turned into a small-scale OVO Fest. First up was Majid Jordan, who sauntered onto the stage in a cloud of smoke to perform "King City" and remind everyone that they're about to kick off another tour later this month. Soon after, dvsn returned to the stage with the choir behind him to get back into the cuts, running through "Hallucinations" and a stunning cover of Aaliyah's "One in a Million," which had the crowd swaying from side to side, lighters in the air. During different portions of the night the crowd was so loud Daley could have let them do the vocal work for him. He did a better job than anyone else in the venue could have, though, his voice frequently rising into a falsetto to remind everyone why he's the one with the microphone.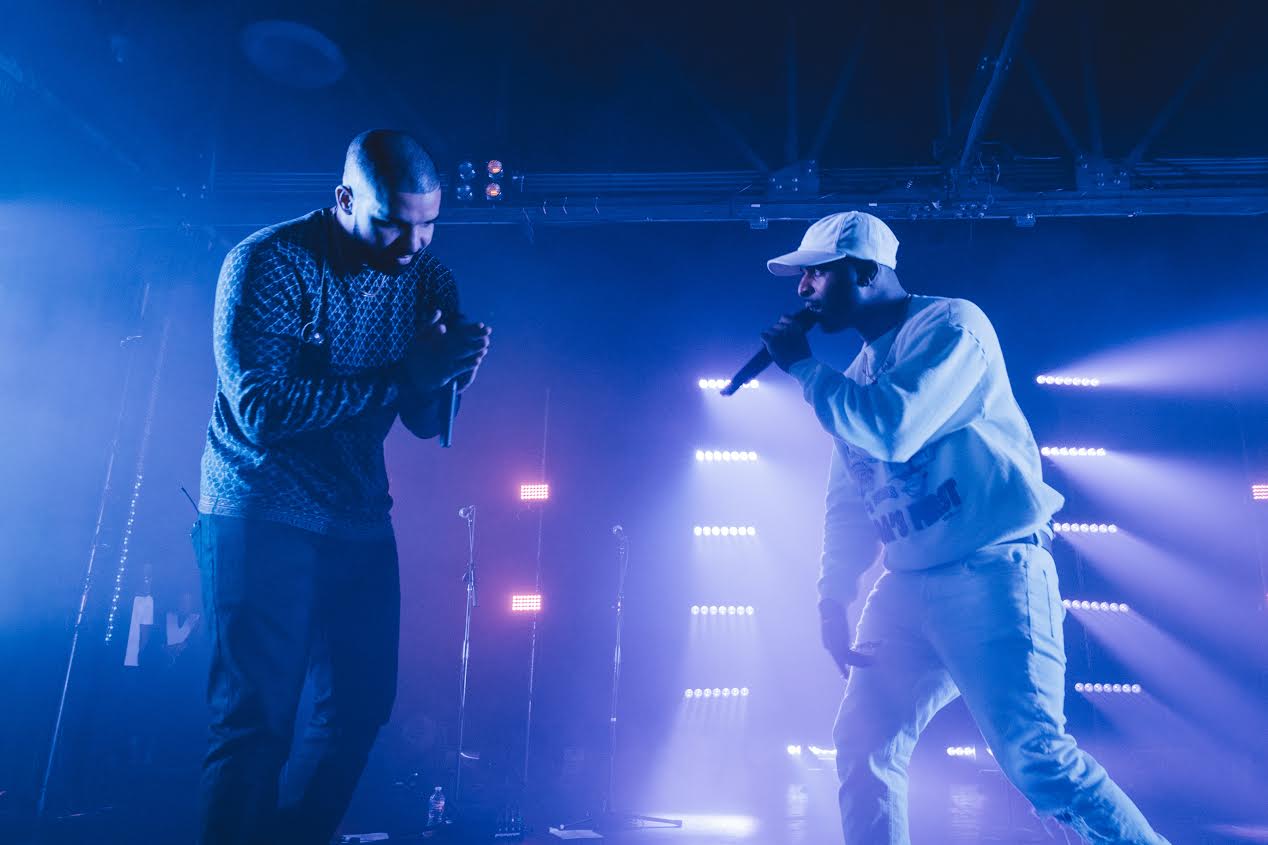 Daley later covered Drake's classic Take Care cut, "Marvin's Room," adding his own spin to the classic cut. Naturally, this perfectly set the stage for Drizzy to make his appearance on the Warehouse Live stage for an epic rendition of "Faithful." "This stage right here, I'll never forgot that door and that ramp walking up here," Drake told the crowd. "I'll never forget this stage, I'll never forget this crowd. This was my first sold out show ever at Warehouse Live in Houston. All these motherfucking people here to see you."
For Drake, this sort of stage and event is familiar. He's selling out shows five times this size on a nightly basis. For dvsn, though, it's the next step. While not a full on "passing of the torch" moment, seeing Drake and dvsn perform "November 18th" together, with Daley taking over the vocals as the crowd sang along felt especially significant for the young duo. Drake is often criticized for not building up his OVO roster, but on this night, he was doing just that. He was doing more than sharing the spotlight with dvsn, he was making sure it was fully on them. One of the biggest artists in the world wanted the crowd to know what the night was about: dvsn.
dvsn is only just beginning, and from the sense backstage after the show, they knew this was only the start, a strong step in the right direction. And that was worth celebrating: Virginia Black whiskey—Drake's latest venture, naturally—flowed while Daley and Nineteen85 received a plaque from reps from Warehouse Live to commemorate the sold out show. They looked exhausted, both from the special Sept. 5 show and also the tour, but, at the same time, relieved and excited.
Warehouse Live has become a rite of passage for OVO artists and dvsn proved that they deserve their place on the roster. During a Houston Appreciation Weekend that was packed with events for the label—two Summer Sixteen shows, a number of club appearances, a charity basketball game, and more—they were the highlight
Daley and Nineteen85 are just getting started, and with new music confirmed for 2017, more wins appear within reach. That said, no matter how many more shows they do, how much music they put out, there will never be another Sept. 5 dvsn concert at Warehouse Live in Houston on Sept. 5. This was a one night only event.