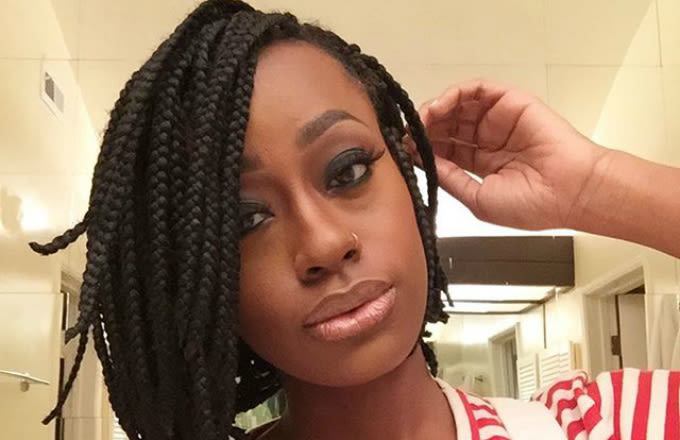 Kari Faux's favorite Drake song to do karaoke to is "Find Your Love." "It's near and dear to my heart, it's just so vulnerable," she tells me as we prepare for a night of karaoke at the chic SoHo gallery/shop/coffee bar American Two Shot. The 24-year-old artist from Little Rock and her partner in crime and fellow artist Malik Flint, better known as bLAck pARty, are now known together as ameyeinvited. It's under this alias that they produce together and throw parties, the first in New York City being Drake Karaoke Night. And it's all in celebration of her recently released debut album, Lost En Los Angeles.
Two years ago, Kari shared "No Small Talk," an Internet-y ode to being too busy for your bullshit with incredibly quotable lyrics, a personal favorite being, "All my bitches bossy, all my diamonds flossy/Rap game Sriracha man you know I'm saucy." That track would eventually be remixed by Childish Gambino on STN MTN / Kauai. Gambino and Kari are now close friends and managed by the same genius, Famuel Rothstein, who performs a few karaoke tracks throughout the night, too. Later she'd go on to release her Laugh Now, Die Later EP and move from Little Rock to Los Angeles, which played a major influence on her recent project.
Where Laugh Now, Die Later appealed to her internet and real-life no fucks given persona, Lost En Los Angeles is more introspective, lost in a new city, finding new forms of art in and outside of herself, with the assistance of live instrumentation. The new sound—and new life—forced Kari to push her vulnerability to the forefront. Even the first line on her project's intro is "I'm not supposed to be here but I am" and she riffs off that with the line, "There's no one that truly understands but that doesn't mean you're misunderstood."
Lost En Los Angeles is a major accomplishment for the rising star, and before she belted out Champagne Papi's tunes all night, we spoke about her turning down a Drake remix, expressing her vulnerability and loneliness throughout music, and more. Life advice: "Read more books, drink more water, watch more movies."
What are we doing tonight?
This is an "ameyeinvited?" party. We're trying to throw parties and we did a couple in L.A., and now we're in New York so we decided to do Drake karaoke because who doesn't know his music?
Speaking of Drake, I've heard rumors that you turned down an OVO remix of "No Small Talk."
They hit me up like, "We want to do an OVO remix of your song." I was just like, "Nah, I don't like remixes." That was around the time when everybody was remixing everybody's song and it was kind of annoying. I want to control the trajectory of my career. Drake's huge… if I would have done a song with Drake it would have been a [big] moment in my life and who's to say if anyone would care about me after? I just wanted to control the course of my career, how big I got and who I connected with or tie my name to.
Do you regret it now?
No. I don't.
Most importantly, I think it speaks volumes to your confidence as an artist.
There are people who are like, "I can't believe you did that." And then people were like, "You really believe in yourself." Yeah, I do. I didn't want to latch on. I'm coming from a place nobody knows about, so I get to be a part of the growing of a scene of a city no one's heard of.
if I would have done a song with Drake it would have been a [big] moment in my life and who's to say if anyone would care about me after?
The new album, Lost En Los Angeles, is about you moving from Little Rock to L.A. Did you get to a point where you were just like, "What the fuck am I doing out here?"
It was me figuring out myself and the world. Being in Little Rock is such a small scope of the world. It's Southern as fuck and it's a small town. Moving to L.A. where everything's totally different made me question myself… am I supposed to be doing this? Is this a mistake? What am I doing here?
Did you start to doubt yourself out there?
I doubted myself a lot. Everybody's out there in the industry, they've been doing it for years. People seek them out. I go out and nobody knows who I am. But you know, when you're in your hometown where you've built up who you are, everybody knows you so you have that confidence like, "Yeah, I'm the shit." When you go somewhere where nobody knows you, it's like, "Whoa… am I the shit?"
L.A. is just so lonely and isolating.
That's how I felt. That's how I ended up doing "The L.E.L.A. Project" and interviewing people. It's a great place, it has lots of opportunities but it's a very large city, everybody's spread out and isolated in their own world.
How has creating this album changed you?
I grew as a person, more than anything else. I was a lot more vulnerable and honest about how I view myself and the world. Working with live instruments was a cool thing and I want to do that more in the future. I feel like I've shown a lot of growth musically.
What's your favorite track on the album?
"Law of Attraction" is definitely my favorite right now. It feels like a fucking cookout in the summertime. You see that dude you like… "Oh, you the one."
Speaking of dudes, did you fall in love out in L.A.?
No. I haven't dated anybody in a few years. I've been talking to guys here and there, and it will be cool at first and then it's like, "Oh, you got me fucked up. You tried it, you playing with me right now." Certain instances would make me think of another time when I dated somebody and I'd be like, "I'm just gonna put all of you in one song."
L.A. dudes are a little cornier.
L.A. dudes don't like me, and if they do like me, they don't like me openly. They're not checking for me. I'm a black girl. In the area I was staying in Hollywood, nobody's checking for me over there. If they do, they're not trying to be seen out with me.
What song do you find you're most vulnerable on?
"Fantasy." It's basically a disclaimer for anyone who wants to date me. I'm not gonna stroke your ego. I'm not gonna be on you hella and make you feel like you're my world. Especially if you're not gonna do that for me. I don't have a problem with doing that for somebody who makes me feel good, but nine times out of 10 they're not trying to make you feel good, they're trying to remind you why they're the shit.
Are you planning any visuals?
Yeah, actually "Fantasy" is the next video. I'm basically just gonna be a murderer.
What about collabs?
I just hung out with Isaiah Rashad the other day, and we were rapping. He's cool as fuck. I really want to do a song with Rae Sremmurd to be honest. They're just fucking fun. I feel like we can make a fun song. Now I'm just working on new music. I want to put out another tape this year.
What's the concept behind the next tape?
It's gonna be Laugh Now Die Later 2. I hate sequels to mixtapes, but I'm gonna try to do the Internet rap thing again. That's where I started and I still like doing that stuff. "Oh I'm too classy for the SoundCloud community?" Fuck no!
Do you think people judge Internet rap now?
People are fucking with it, but there's the sense that there won't be longevity in your career. That's still a thing, which is the reason I stepped outside of the Internet rap. I love it, and I'm gonna come back to it, but from project to project I want to prove that I can do other shit.