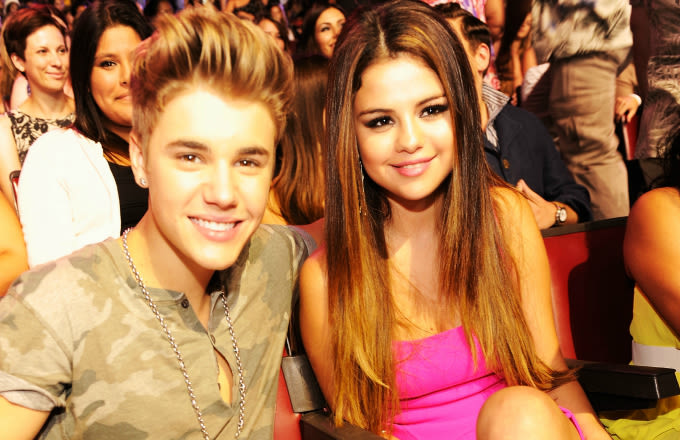 Pop darlings Justin Bieber and Selena Gomez broke up in 2012, unearthing a rare kind of sadness that reverberated throughout the world. Sure, they were young, but if those two couldn't make it, who among us could? At one point, it looked like the power couple might get back together, but no dice. The ensuing years were filled with scattered Instagram shots of the pair together, the occasional insult, rumors of other relationships (Bieber was linked to Kendall Jenner, Miranda Kerr, and Hailey Baldwin; Gomez was linked to Orlando Bloom and Niall Horan), and references to the relationship as both tried to cope with the obvious pain of their split. They've remained intertwined in each other's personal and professional lives, even as they've grown up and seemingly apart.
In 2015, Bieber and Gomez both released well-received albums and the topic of their relationship was unavoidable during their respective press tours, with both expressing love and support for the other. Everything between the two seemed cordial, until this month when Gomez held nothing back in a string of comments on Bieber's Instagram that led to the #SelenaEndedJustinParty and Bieber deleting his Instagram.
How did we get here?
Nov. 2014: Selena releases the video for her song "The Heart Wants What It Wants," and tells Ryan Seacrest that the song is about Justin, who has seen the video. "He thought it was beautiful. I think it was really hard at first. I think he was a little jealous of the video guy." Selena adds that she will always support Bieber: "I'm upset when he's upset. I'm happy when he's happy. I don't want anything bad to ever happen to him. It hurts me. That's all." Meanwhile, Bieber posts his own response to the video with a since-deleted Instagram.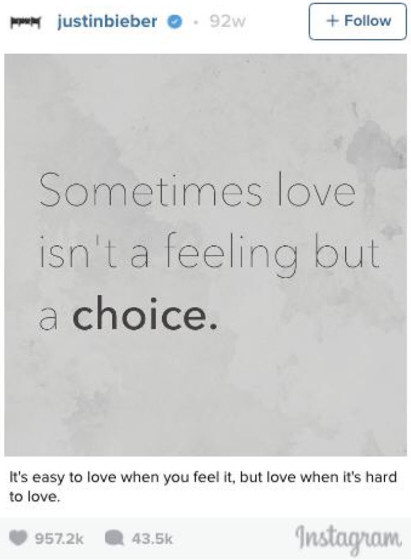 Oct. 9, 2015: Gomez releases her second studio album, Revival. Many fans pick apart the lyrics and assume that tracks like "Same Old Love" contain jabs at Bieber. "I'm so sick of that same old love, that shit, it tears me up/I'm so sick of that same old love, my body's had enough," Gomez sings on the track, which she annotated herself on Genius. "There's a saying that the definition of insanity is doing the same thing over and over again and expecting a different result. This song's about taking steps to stop history from repeating itself—to make sure that you're not settling for any less than you deserve." We can guess what or who she might be talking about here.
Oct. 17, 2015: A Bieber and Gomez duet drops on OVO Radio, leading many to believe the pair might be back together. It later comes to light that the song was written in 2012 and was never meant to be heard and is removed from the web (to the best of their respective record label's ability).
Sept. 2015: Reacting to Bieber's growing success, Gomez tells the New York Times, "While people were writing that I was stupid for being in it, this is what I always saw in him," she says. "I'm like, duh!"
Nov. 3, 2015: Bieber talks about Gomez and their relationship in an interview with Access Hollywood, and details how she influenced his album Purpose. "It was really tough. I don't know if I'm still over it yet," he admits. "I think that I'm definitely in another place and I think we've definitely went our separate ways. I love her and I want her to be awesome, but there are things that remind me of her." He adds, "I'm never going to stop loving her, I'm never going to stop checking on her." The eyes emoji is in full effect.
Nov. 13, 2015: Bieber drops his fourth studio album, Purpose. In a sit down on Ellen, Bieber reveals that "What Do You Mean?," "Sorry," and "Mark My Words" are about Gomez. Careful listeners believe other songs sound like they might be about Gomez as well, including "Love Yourself," where Bieber sings about a girl using his name to get into clubs. The real kisser appears to be "my mama don't like you and she likes everyone."
Nov. 21, 2015: Bieber and Gomez are spotted together for the first time in over a year at the Montage Hotel in Beverly Hills. On top of a reunion, Bieber is recorded playing the hotel's piano and serenading Gomez with "My Girl." Jelena fans everywhere sigh with wonder and relief at the storybook scene. Maybe there is hope for them, and for love.
Dec. 2015: Gomez has been spotted hanging out with One Direction member, Niall Horan. A fan asks her if they should buy Made in the A.M., the One Direction album, or Bieber's Purpose. She replies, "MADE IN THE A.M."
Jan. 2016: While promoting Revival, Gomez asks everyone to stop asking her about Bieber in her Rolling Stone interview. "Honestly, what I would love to be printed is that I am so beyond done with talking about that, and him."
Feb. 11, 2016: Bieber opens up to GQ about the current status of his relationship with Gomez: "We don't talk often, but we're cordial. If she needs something, I'm there for her. If I need something, she's there for me."
Feb. 15, 2016: Gomez congratulates Bieber on his Grammy win for Best Dance Recording with "Where Are Ü Now." "I'm very happy for him. Honestly, so cool. They have such a cool energy amongst all of them to be able to create something like that. It's really great," she adds, in reference to his collaborators Diplo and Skrillex.
May 5, 2016: Bieber posts a throwback pic of him and Gomez which becomes Instagram's most liked picture. (Gomez later takes the title for most liked Instagram pic with a selfie that earns 5.4 million likes).
May 9, 2016: Gomez appears to crumple up a fan's "Marry Justin Please" sign during a stop on her Revival tour.
SELENA CRUMPLED UP MY SISTERS SIGN IM CRYING #revivaltourfresno pic.twitter.com/BZQyOuIt2o

— ✨M✨ (@bieber_butt) May 9, 2016
July 2016: Bieber is spotted hanging out with "Gomez look-alike" model in Miami, leaving Jelena fans to speculate that he is not over Gomez.
Aug. 14, 2016: Bieber is filling his Instagram account with photos of his new "friend," 17-year-old daughter of Lionel Richie, Sofia. The pair are seen hanging out before jet-setting off to Japan together. Apparently not feeling the new relationship, Beliebers begin trolling her IG with snake emojis, black hearts, and other seemingly malicious commentary. Bieber warns his fans to stop trolling her account. "I'm gonna make my Instagram private if you guys don't stop the hate this is getting out of hand, if you guys are really fans you wouldn't be so mean to people that I like." Later that day, Gomez chimes in to tell Bieber that he should appreciate his fans more because they loved him when no one else did. She also shades Bieber by posting photos with her own fans on Instagram, and likes posts that seem to be dragging Justin.
Aug. 16, 2016: Bieber follows through on his threat and deletes his Instagram.
It's almost 3am and I'm worrying over bieber deleting his Instagram … What is my life !!! pic.twitter.com/br69kbBKf2

— Katie Geis (@katie62020) August 16, 2016
DID JUSTIN JUST SAY SELENA CHEATED ON HIM WITH ZAYN pic.twitter.com/p8RTjytKKr

— lindsay (@zxrrysome) August 15, 2016
Gomez seems to be feeling lousy about how the the whole thing went down, because she posts a message to fans on Snapchat: "What I said was selfish and pointless."