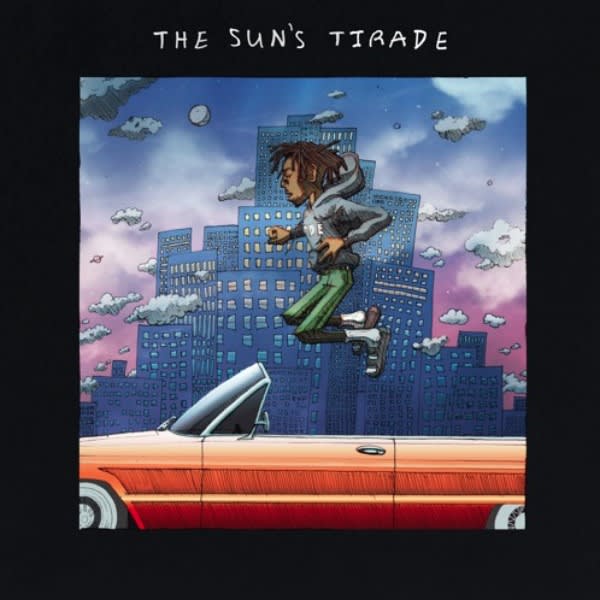 It's been two and a half years since the release of Isaiah Rashad's much-heralded debut project Cilvia Demo. In that time, we haven't heard much from the TDE rapper. He started unleashing singles back in fall of 2015, and now he's officially dropped his debut album The Sun's Tirade.
The 17-track project boasts several guests, including Rashad's fellow TDE artists Kendrick Lamar, Jay Rock, and SZA, as well as SiR, Zacari, Deacon Blues, Kari Faux, and Syd. Production is from Mike WiLL Made-It and others. It includes the previously released tracks "Free Lunch" and "Park."
Rashad opened up about the long wait between Cilvia Demo and The Sun's Tirade on The Breakfast Club recently. According to him, he was almost dropped from TDE due to substance abuse problems. "Honestly, I got off the Oxymoron tour kinda addicted to [Xanax] and an alcoholic. I fucked up… I fucked up pretty bad. I almost got dropped like three times," he said. "I had access to shit I didn't have before so I'd just wake up in the morning and go buy a pint." Thankfully, he was able to overcome his addiction problems, regain the trust of the TDE crew, and finally put together his debut album.
After promising that every artist on the label would drop an album in 2016, TDE CEO Top Dawg had a lot to live up to. So far, both Kendrick Lamar's untitled, unmastered. and ScHoolboy Q's Blank Face LP have been well received. From the looks of it, Isaiah is set to keep the trend going.
You can purchase Isaiah Rashad's long-awaited debut album The Sun's Tirade on iTunes here, or stream it on Apple Music.