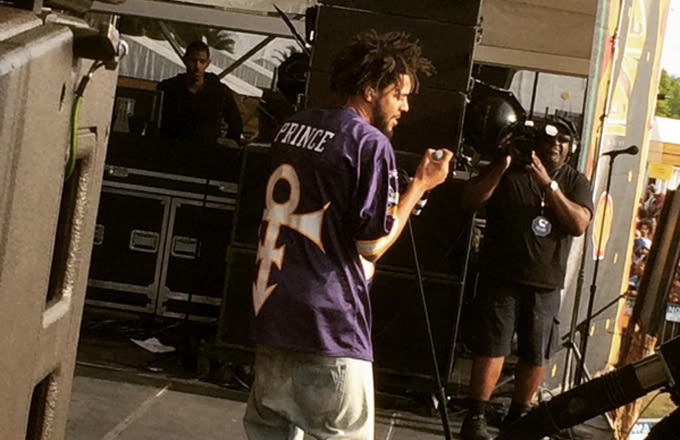 J. Cole performed at the 2016 New Orleans Jazz and Heritage Festival yesterday. He performed hits from his 2014 Forest Hills Drive album, but the highlight may have been his tribute to Prince, who passed away last Thursday.
The rapper hit the stage wearing a custom Minnesota Vikings jersey with Prince's glyph for a number and his name on the back. The jersey belongs to Chase N. Cashe, who stopped by the festival to support J. Cole.
A video posted by Chase N. Cashe (@theheir) on Apr 24, 2016 at 6:30pm PDT
A video posted by Chase N. Cashe (@theheir) on Apr 24, 2016 at 8:15pm PDT
J. Cole later signed the jersey for Chase N. Cashe.
A video posted by Chase N. Cashe (@theheir) on Apr 24, 2016 at 8:17pm PDT
Prince was a big Vikings fan. In 2010, he penned an anthem titled "Purple and Gold," which he reportedly wrote shortly after the team's 34-3 win against the Dallas Cowboys in the 2010 NFC divisional playoffs—Prince's first Vikings game "in a very long time."
But the singer's history with Minnesota's sports scene goes beyond the Vikings. The singer's 1984 song "Let's Go Crazy" is played at Target Field when the Twins hit a home run. Last October, Prince—a Minneapolis native—invited the Lynx to a private three-hour concert at his Paisley Park estate after the team won their third WNBA championship.
"He was very very engaging," Lynx coach Cheryl Reeve told CBS Minnesota about the experience. "There was a huge screen, that said 'Minnesota Lynx WNBA Champions 2015.' When he sang, he personalized some of the songs — you know, sang 'Lynx' in the songs, using players' names, which was just really really cool. And so we were just mesmerized. And everyone was just kind of turning and going, 'This is so much fun! Can you believe this is happening?'"
Minnesota's Lynx, Vikings, Twins, Wilds, and Timberwolves all paid tribute to the legendary singer following news of his death on Thursday.