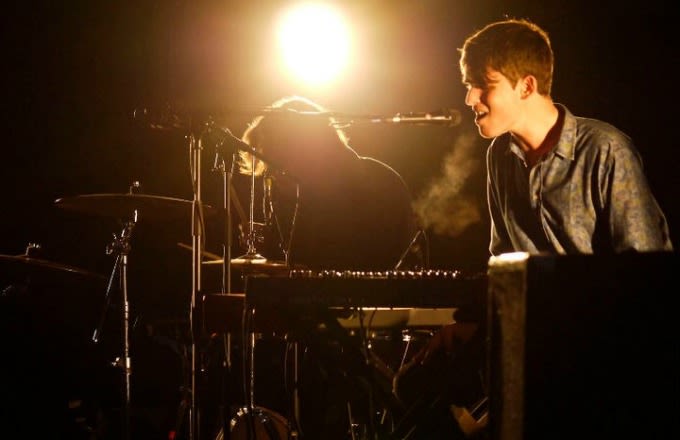 James Blake took to Twitter Friday to deny a recent claim from Hudson Mohawke that the two artists worked together. "As talented as I think he is, I've never worked with Hudson Mohawke and don't know what he's talking about. I'm respectfully baffled," Blake tweeted.
On Thursday Mohawke said he worked on music with both James Blake and Frank Ocean after someone tweeted, "Need a @HudMo and @jamesblake project."
"We demo'd a few as well as Frank O n myself but I can't get into anymore trouble for leaks," Mohawke wrote back. He added, "None of this music is confirmed as ever seeing the light of day n im not gona leak anything."
This whole situation comes across as pretty bizarre. Most people are fully aware of who they have worked with in the past, so it's unusual that a known producer like HudMo, who has worked with artists like Kanye West, would just drop two names as famous as James Blake's and Frank Ocean's. However, Blake's denial puts into question the validity of Mohawke's comments.
It's important to note that Blake and Ocean are friends and Blake has even heard some of Ocean's unreleased new music. "He is onto something, he really is," Blake recently said of Ocean's new material.
Mohawke's rep did not immediately respond to Complex's request for comment. You can check out the tweets below.
We demo'd a few as well as Frank O n myself but I can't get into anymore trouble for leaks:/ https://t.co/Bp0sabl9gx

— HudsonMohawke (@HudMo) August 11, 2016
None of this music is confirmed as ever seeing the light of day n im not gona leak anything

— HudsonMohawke (@HudMo) August 11, 2016
As talented as I think he is, I've never worked with Hudson Mohawke and don't know what he's talking about. I'm respectfully baffled.

— James Blake (@jamesblake) August 12, 2016