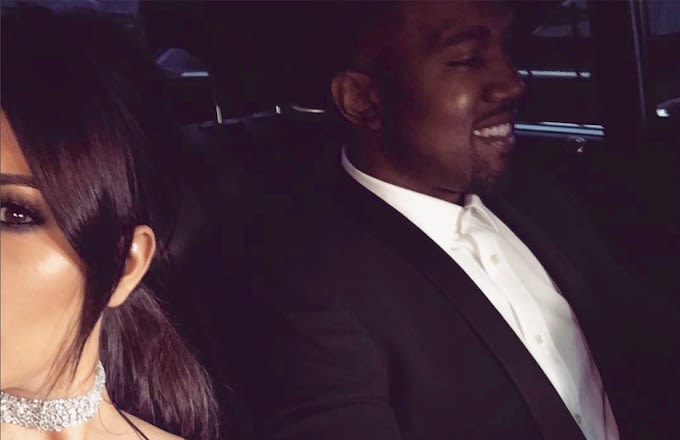 Kanye West and his wife Kim Kardashian found themselves in Miami last night to attend the wedding of their mutual friend and nightclub kingpin David Grutman. If that name rings a bell, it's because West actually name-checked the promoter on his Yeezus album opening track "On Sight." The event was a star-studded affair that drew some of the biggest names in the entertainment industry like Kim's sister Kourtney Kardashian, Hulk Hogan,Wilmer Valderama, and Ryan Seacrest.
Now, when you invite Kanye West to any kind of event, you have to expect the unexpected. At one point, during Jason Binn of Dujour Media's toast to the bride and groom, Kanye lept up from his chair and approached the dais. He quickly snatched the microphone from Binn's hand and echoing his immortal turn cutting off Taylor Swift at the VMA's in 2009 said, "Jason, Imma let you finish, but Dave and Isabela had one of the best weddings of all-time!"
The move was naturally made in jest and the crowd ate it up applauding loudly. This isn't of course, the first time that Kanye called back to his famous Taylor Swift interruption. Last year, he almost interrupted Beck's speech after the latter picked up an album of the year award at the Grammy's. He later said that Beck needed to "respect artistry."
Check out Kanye's latest interruption below.