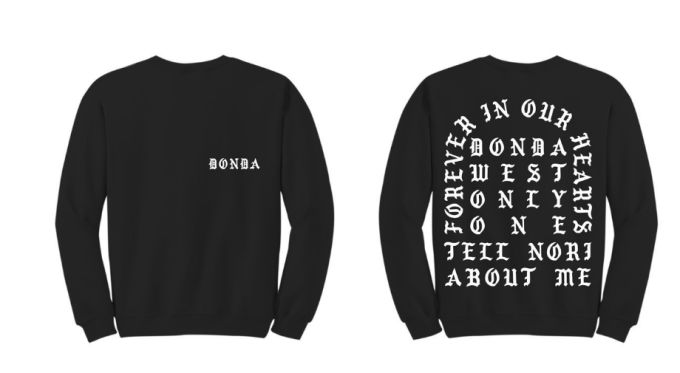 Following the release of his No More Parties in L.A. sweatshirt last Thursday, Kanye West just unveiled a new addition to his webstore. The latest crewneck sweatshirt is a replication of his first collaboration piece with Cali DeWitt, the artist behind The Life of Pablo merch.
The black and white sweatshirt is emblazoned with the same Old English font we've seen on TLOP merch, but this one features a tribute to West's late mother. Her name "Donda" appears on the front, while the back includes the lyrics, "Tell Nori about me," from his song "Only One" as well as the words, "Forever in our hearts." West has been spotted wearing the sweatshirt in the past, but it was never made available to the public until now.
Even though West commissioned the original design in 2015, it wasn't until April that DeWitt opened up about working with West. The California-based artist is known for his text-based art, which got the attention of Virgil Abloh who eventually introduced him to West. His designs are based off memorial sweatshirts that are made in the Chicano community for family members who have died.
The original Donda sweatshirt is available through Kanye West's webshop.