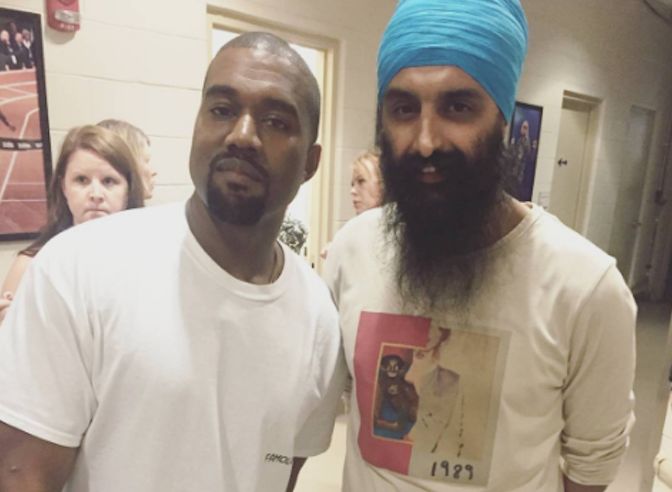 Last night during the VMAs, Kanye West was given several minutes of uninterrupted stage time to do pretty much whatever he wanted. Before premiering his new video for Fade, he took the opportunity to address the ongoing drama surrounding Taylor Swift. "If you think about it, last week there were 22 people murdered in Chicago," he said. "People come up to me like, 'Man, that's right, take Taylor down,'— Bro, I love all of y'all. That's why I called her."
But, West wasn't the only one hoping to promote peace between the rapper and Swift last night. West shared a picture of Kanwer Singh a.k.a. Humble the Poet, a Toronto-based elementary school teacher and spoken word artist, who was wearing a homemade shirt that combines an image of Swift's 1989 album cover and the banned NSFW version of West's My Dark Twisted Fantasy album cover on the front. The back of shirt is emblazoned with the words, "Unity is Immunity to Bullshi*t," in the same Old English font we've seen on West's official Pablo Merch.
According to the caption on Instagram, Humble was trying to "bring good energy to the event."
It appears West was a fan of the shirt. He captioned the image with the words "unity love" and posted it on Twitter.
The tweet was West's latest attempt to spread the love, after his wife Kim Kardashian released a recording of the rumored phone call between West and Swift on Snapchat in July. The incriminating video appeared to confirm that Swift had approved part of the lyrics to West's "Famous" track, even though the singer had previously denied it. The feud seemed to squash any friendship the two had worked towards after West infamously interrupted Swift on the VMAs stage back in 2009.
Unfortunately, Swift was apparently busy at jury duty and wasn't in attendance at the award show to see the shirt herself.