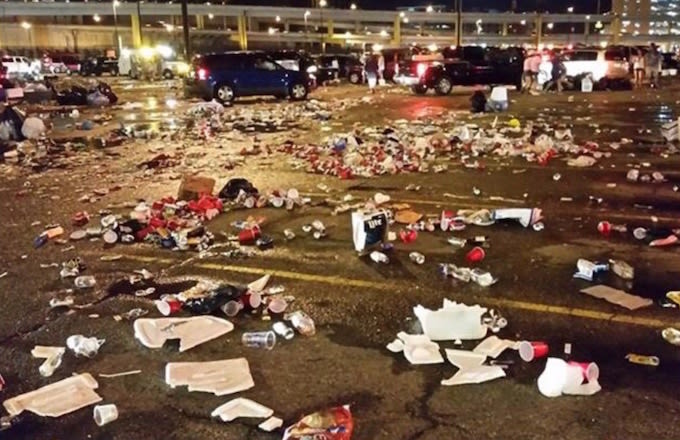 Last night, country music star Kenny Chesney hosted a massive concert at Heinz Field, home of the Pittsburgh Steelers football team, during his ongoing Spread The Love tour. Apparently, the love wasn't spread as liberally as he had hoped it would, because Chesney's many fans turned the stadium and the parking lot surrounding it into a chaotic scene of garbage and fist fights.
According to the Pittsburgh Post-Gazette, "57 emergency medical transports had been requested and 25 people were picked up and taken to hospitals, mainly for intoxication or alcohol-related issues, such as falling." That's in addition to five people who were arrested inside Heinz Field on charges of trespassing, ticket robbery, simple assault and public intoxication, as well as the 36 people that were cited for underage drinking leading up to the show. Outside the stadium, the scene took on the image of a fledgling landfill, with empty beer cans, trash bags, and food containers littered as far as the eye could see.
What's worse is that officials in Pittsburgh saw this sort of thing coming. Chesney hosted another concert in the city back in 2013 which ended up creating the same, disgusting result. Looking to head off another disaster, the city issued out a number of rules and reminders to fans looking to attend the show. In the end, the warnings went unheeded and the fans again went out of their minds drinking, littering, and engaging in a number of physical altercations.
It's may be too early to speculate right now, but it would be incredible if Chesney were invited back to the Steel City anytime soon.