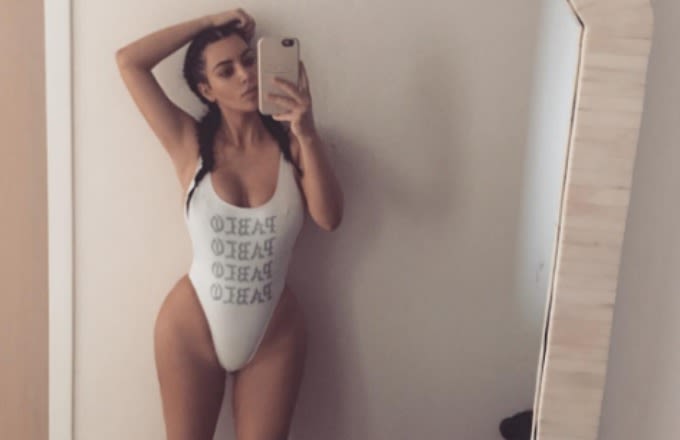 Kim Kardashian held nothing back in her first ever cover story for GQ, including saying that Taylor Swift actually approved Kanye West's now notorious lyric about having sex with her on The Life of Pablo track, "Famous."
"She totally approved that," Kim told GQ. "She totally knew that that was coming out. She wanted to all of a sudden act like she didn't. I swear, my husband gets so much shit for things [when] he really was doing proper protocol and even called to get it approved."
Kim doesn't stop there and even claimed that there is actual proof of the entire phone call because a videographer was filming the whole thing. "[Taylor] totally gave the okay. Rick Rubin was there, so many respected people in the music business heard that [conversation] and knew."
If you don't remember, Swift quickly denied any approval or knowledge of the lyric after the public heard it for the first time at Kanye's Madison Square Garden debut. An official statement from Swift's camp noted, "Kanye did not call for approval, but to ask Taylor to release his single 'Famous' on her Twitter account. She declined and cautioned him about releasing a song with such a strong misogynistic message." The representative went on to say, "Taylor was never made aware of the actual lyric, 'I made that bitch famous.'"
Mrs. West doesn't think the message was misogynistic at all. "I mean, he's called me a bitch in his songs," she explained. "That's just, like, what they say. I never once think, 'What a derogatory word! How dare he?' Not in a million years."
For his part, Kanye told the public that he had actually called Taylor and "had a hour long convo with her about the line," and she "thought it was funny."
Swift took the whole thing to the Grammys where she won Album of the Year for 1989 and took a moment of her acceptance speech to take a shot at Kanye. "There are going to be people along the way who will try to undercut your success or take credit for your accomplishments or your fame," she said directly referencing the "Famous" lyric before closing the speech by taking credit for her own success.
According to Kim, Taylor was going to have the opposite reaction. "It was funny because [on the call with Kanye, Taylor] said, 'When I get on the Grammy red carpet, all the media is going to think that I'm so against this, and I'll just laugh and say, 'The joke's on you, guys. I was in on it the whole time.' And I'm like, wait, but [in] your Grammy speech, you completely dissed my husband just to play the victim again."
The whole thing seemed to reignite a contentious relationship between the two artists who had actually been on good terms as friends who were going to dinners together, sending each other flowers, and introducing each other at awards shows. According to Kim, Taylor completely changed sides on Kanye. You can read Kim's full interview here.