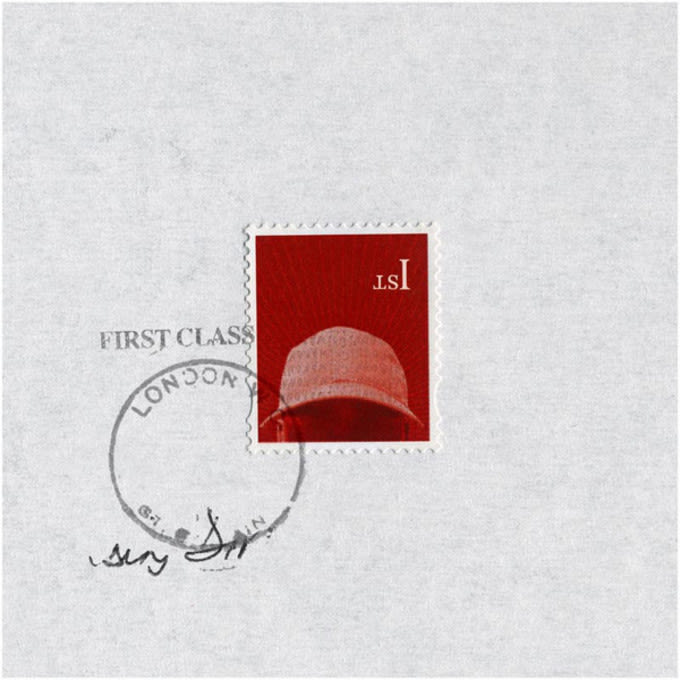 Skepta wants to be grime's ambassador.
Throughout his decade-long career, the Meridian veteran and BBK squad leader has always reached out to other sounds and audiences, lacing his authoritative flow on everything from D&B and dubstep to UK funky and electro. Sometimes it worked ("Intensive Snare") other times it didn't ("Rolex Sweep"), but throughout it all, Skepta's M.O. remained the same: raise the levels and push grime to a larger platform, winning over new fans in the process. So it was no small irony that his purist anthem "That's Not Me" won a MOBO with an £80 video, becoming a massive hit and launching the next phase of his career. Konnichiwa, his long-gestating return to the LP game, combines this hardcore approach to Skepta's desire to break new ground, emphasising uncut 140BPM bangers while bringing outsiders into his world.
Let's start with the title: welcoming, but also foreign. You know what he's saying, but that Japanese "hello!" feels like an analogy for how Skepta's newfound international fanbase hears his music. For listeners drawn to grime by "It Ain't Safe" and "Ladies Hit Squad", the ends still speak another language, but for the longtime fans that re-energised Skepta's career following his smash street singles, grime flows, slang, riddims and attitude are just plain English. Hence the balancing act: Konnichiwa has to please the diehards without alienating any newcomers.
HE'S EXPANDED WHAT A GRIME ALBUM CAN SOUND LIKE AND HOW FAR LONDON'S STREET MUSIC CAN TRAVEL.
Thankfully, Skepta has internalised the lessons from his previous crossover attempts. The key is in the execution: whereas the BBK don once jumped on crossover beats to make pop songs, Konnichiwa sticks to a solid grime foundation before bringing outsiders in. Even when he strays from the 140BPM benchmark on tracks like "Crime Riddim", Skepta and his production team keep an eye on grime's glassy digital textures and roughneck bass. Even the Pharrell-produced "Numbers", which admittedly stands apart, sticks to the minimalist vision defining the album's beats. Clearly, he's not moving away from grime, but he is expanding its parameters.
Konnichiwa's best moments however, come when Skepta starts shelling on the same type of beats that launched his career on pirate radio, proving that even a decade on, few emcees anywhere can match him on the microphone in terms of sheer intensity. "That's Not Me" and "Shutdown" are of course present, but the album is full of bangers that will undoubtedly find a place in the man's arsenal for years to come. "Lyrics" features a star-making turn from 19-year-old future legend Novelist, but Skepta refuses to be outshined thanks to lines shouting out classic raves and what sounds like a not-so-subtle shot at Dizzee Rascal (Tell a pussyole look sharp, fix up), grime's last international success.
"Corn On The Curb" with Wiley, meanwhile, covers the trappings of celebrity but manages to avoid hip-hop clichés by doubling down on grime's unique tempo, rhyme schemes and rhythmic drive. Skepta even flips rock group Queens of the Stone Age on "Man", and somehow it sounds straight out of Tottenham. By the time Boy Better Know comes in for turn-up anthem "Detox", bandwagon-jumpers and roadmen alike will be busting a skank and dropping 'dun know's in their speech. Word to Drake's new vocabulary.
But Konnichiwa does come with some blips. At a slight 44 minutes which already includes four previously-released singles, that's only 30 minutes of new content plus a motivational pep talk from Chip and a random skit where Skepta's friend gets into an online cussing match with a shoot-em-up gamer from overseas. It's meant to showcase his lifestyle, but chances are it'll have listeners reaching for the skip icon by the second listen. For an album two years in the making, that's not much new material for listeners to sink their teeth into, but by going for quality over quantity, Skepta's made an LP that will stand the test of time. From mainstream smashes to underground anthems, Konnichiwa provides a full picture of what makes Skepta one of the most vicious emcees not just in grime, but also on either side of the Atlantic. It's also worth mentioning just how banging the mixdowns sound: grime's come a long way from 2002's "Pulse X", as every kick, snare and bass gurgle smacks the listener with a satisfying impact, proving the genre can transition to high fidelity audio without losing any of its original grit.
Underground heads can kiss their teeth at Skepta's ambition all they want, but with Konnichiwa, he's expanded what a grime album can sound like and how far London's street music can travel. He may have wanted to be grime's ambassador, but after this, he might find himself its king.