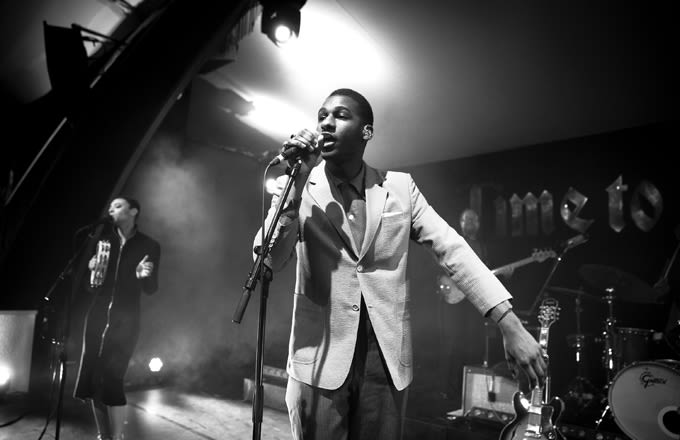 Leon Bridges has come a long way from bussing tables at a Tex-Mex restaurant. In 2014, he signed to Columbia Records and one year later, he released his debut album Coming Home, which earned him a nomination for Best R&B Album at the 58th Annual Grammy Awards. His single, also titled "Coming Home," became a Top 10 Most Viral Track on Spotify. The soul singer who prefers the sound and style of the old school—think Sam Cooke vocals and high-waisted pants, vintage shirts from the '60s, and spectator wingtips—isn't just a kid from Fort Worth, TX anymore.
This past weekend, he was invited by Ketel One Vodka to perform at its 325th anniversary celebration all the way in Schiedam, Holland. Bridges, 26, was dressed in a mismatched brown suit with a red button down shirt underneath and a brown fedora. During his 45-minute set, he sang track after track from Coming Home and glided across the stage, occasionally showing off his impressive footwork. Guests—some of them definitely in their golden years—cheered and danced along. Bridges had the room's attention.
Bridges is aware of his successes. "The fact that I've been asked to play at the 325th anniversary of Ketel One, in the birthplace of Ketel One, is an honor. I've definitely come a long way." But, he says, it's just the beginning.
Here, Bridges talked to us about the beginnings of his career, where his sound comes from, and what's next.
Has any of this—your career—made you nervous?
A lot of things. [Laughs.] Before people knew who Leon Bridges was, my motives were to continue to grow. I felt like I wasn't ready. I wanted to be a better guitar player, I wanted to be a better writer, I wanted to be a better singer. Eventually, we released Coming Home and that kinda shot me out of my Fort Worth bubble.
So, being on stage and singing in front of a lot of people was a hard one for me. Even when I went to the Grammys, I was nervous. To be around all the musicians who I look up to…
Who are your peers now.
Yeah, it's crazy.
Have you ever been star struck after meeting a celebrity?
Meeting Miguel totally threw me off. He's one of the reasons I picked up a guitar. It was encouraging to see a black man doing it, kind of doing something off the path, off the norm.
Who else inspires you?
Anything, any type of music is something that I can be inspired by. It doesn't mean it has to be old. But if you wanna talk about classic, I love Bobby Womack and Neil Young. But I'm also inspired by hip-hop. Listening to Kendrick Lamar challenges me to be a better writer. I like to pull inspiration from different places.
Where does your sound come from?
I listened to a lot of R&B growing up. It wasn't even necessarily traditional soul music—from Ginuwine to Usher. That really built my foundation. It's a blend of that, folk, and soul. I really don't know how to explain it. It's an accumulation of different things I've listened to my whole life.
What's your favorite Usher song?
Definitely "U Got It Bad." I always had a crush on Chilli.
It's funny because apparently, Chilli thought one of the songs on Confessions was about her and got upset.
My girlfriend did the same thing to me. There's a song called "Pull Away" on Coming Home. When the album came out she was like, "I thought ['Pull Away'] was about me and I was pissed off." I was like, "No, no it wasn't." [Laughs]
What's next for you?
I'm starting to work on my next record. I'm gonna be writing and recording. This next record will show the growth of Leon Bridges.