We last caught up with bass-loving producer, songwriter, and budding crooner Lil Silva back in 2014 when he dropped his emotive EP, Mabel. He'll tell you that he's "still in Bedford", but he's managed to catch the odd flight here and there too, working with the likes of R&B singer BANKS and also Mark Ronson, who called on the UK funky star to help out on some lady called Adele's platinum-selling album 25. Plus, last year, the Good Years-signed artist threw out some music for us to rave to with his Drumatic EP—you know, just in case you forgot he could still make a club ring off at any given moment. It's been an exciting few years for TJ Carter, and now he's giving us JIMI (Journey Inside My Imagination), an EP which sees him build on his past, present and future sounds, weaving in everything from trance and bass to UK funky, house and grime. Complex meets up with the cool, calm and collected artist to discuss JIMI, the collapsing of clubland, falling slightly out of love with radio, and learning from the greats.
All of your EPs sound like you, but unique, in that each release shows a further development of your sound. The first single from JIMI, "Lines", has gone down extremely well.
That's what I want people to feel from start to finish: my evolution. The first minute of "Lines" is like trance, then it's like I'm lost in the mass. That's what I want people to get; you kind of get high within it. I didn't know what to expect, but the reception has been absolutely crazy. People are tripping out when they hear it for the first time, and the reactions are amazing. I'm glad people are gravitating towards the transition again. It's what I always want to do, so I'm happy.
What triggered the feelings behind second single, "Caught Up"?
You grow up and you see a world not fit for your closest peers. I kind of leave them to get on with it because they're not noticing their rights from wrongs. You can only say so much, before nothing is really getting through, so you kind of leave them, and I pretty much felt that way. I remember actually singing the lyric in the room [sings] You know what? You can just stay caught up in your world and it just joined together. You have your peers and they could be in a relationship or tied into shit that they really shouldn't be involved in, and that's just how they live. They're chained to that situation.
Talk to us a little bit about the sonic journey from Distance to Drumatic to Mabel to now JIMI.
I introduced the singing on Distance, and it's definitely something I'm going to get more into. The Drumatic EP was to show I'm always going to cater to the world I came through, which is more on the underground side of things. Working with BANKS really helped and I've been doing some work with Mark [Ronson] structure-wise as well. The way he builds, I think that aided the whole JIMI project. I just want everything to build. It's about that journey I can take you on in four minutes and how I can make you feel.
What are your ultimate goals within music and what are you most proud of achieving so far?
I feel the opportunities that have come my way so far weren't written at all. But it's just where my journey has taken me, from the people I'm surrounded by and the things I've wanted to spend my time doing. A big goal for me is obviously getting my debut record totally right and out for everyone to enjoy. I really want to keep developing new artists and crafting their sounds too; I get a lot of joy seeing that creative process grow from the ground up. A real highlight for me, so far, was working closely with BANKS and seeing a vision and building with her exactly what she wanted from the music we made together. Having the space to do that from literally one demo to a whole body of work feels like a great achievement. I'm really proud of her. The other obvious highlight for me was being able to work on the Adele record with Mark, which I'm super grateful for.
"I watch quite a bit of Manga. I feel like the colours in that trigger some weird emotions in me, so I always have them on in the background when I'm making music."
You tweeted about that Adele track and ended it with, "I'm still in Bedford." Are you kind of half in the fame game and half out?
I'm still in Bedford, still reppin' my hometown [laughs]. Mark rang me up one day and said, "I'm doing some work on Adele's track—do you want to come out?" I was like, "Definitely, man. I'm there." We did a few tracks and "Lay Me Down" was the one that they went with. It was great working with her too—that experience helped me think so differently. She just came down and did it. There was no over-thinking anything, and her presence is very cool. She's still humble and hungry, which is amazing to see. That experience opened my eyes up to more, like, there's so much more we can do within ourselves and it's something I always personally tell people to do: keep on the same thing you're doing, but just build around it. If you keep doing this 140BPM or whatever it is, it's cool but it's boring and it all becomes the same. I can't gravitate towards it. Radio is hard to listen to now because the playlist is too similar. Music is music and I appreciate everyone putting the time in to make it. But I want to feel how I felt way back from the '90s, when you heard what Timbaland and Dilla were doing with their sound and The Neptunes. I feel like grime today could be more forward-thinking. You listen to Dizzee Rascal's grime back in the day and it sounds nothing like what grime is now. And that's what I mean about future sounds: I wish that people could push forward and bring me somewhere with it. Bring me on a journey.
What are you listening to right now, then?
I've been listening to some funk records, J Dilla, Pete Rock… I've just been going across the board. Prince too; he was someone who was ahead of his time. It's scary because Prince inspired you to think differently and the palette of playlists that are on the radio are not really broadening your mind to think differently because it's all very similar. It's a shame because everyone's got a good voice, but behind it, it just doesn't mean anything. We need more forward-thinking music. Macabre Unit, who I used to be affiliated with back in the day, you could listen to their stuff now and it's still future music. People still don't know about it.
How do you stay out of all the politics involved in music and stay so grounded?
My manager and the power of 'no' has been a constant reminder throughout what we've done. I feel everything I put out or I'm working on is always something I love, which helps me stay grounded and not get too caught up on doing things for wrong reasons and the politics that go alongside it.
You dip in and out of social media—which is no bad thing—​but there have been Instagram posts with you and Skrillex, you and Wondagurl etc. So, what's happening on the collaborations front?
I did some work with Skrillex a few years back, and I think where I'm at now just means there's more space to go back and finish off all of this stuff. Wondagurl flew in a couple of weeks ago and I was on her list, which I thought was really cool. She's dope and we're going to be doing some stuff together. She was playing some old stuff from way back in her archive and I was like, "​Yo! You need to get this shit out." Hopefully we'll get something done with Stefflon-Don, too. I'm into her. I think she's dope.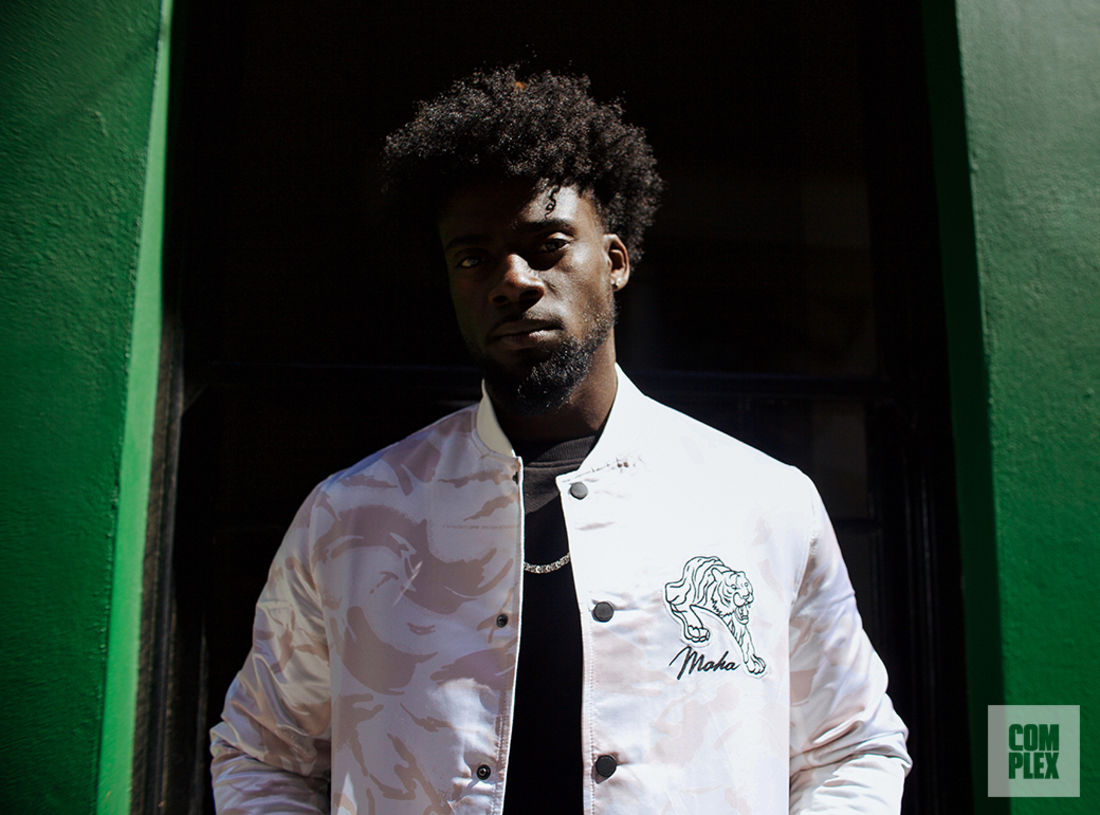 "I feel Like grime today could be more forward-thinking. You listen to Dizzee Rascal's grime back in the day and it sounds nothing like what grime is now."
You've mentioned before that you consider music as art and that you also try to draw from time to time. What other outlets do you have other than music? What else spurs you on to create?
I watch quite a bit of Manga. I feel like the colours in that trigger some weird emotions in me, so I always have them on in the background when I'm making music. It's quite soothing sometimes.
You come from quite a musical family; how has their love of music inspired you?
My dad would pretty much kick us off the decks and play reggae, soul, disco and 7" records until he was done and I just used to take it all in. I couldn't wait until it was my turn to go back on the decks. Music was always getting played around the house growing up, and I was hearing so many genres of music from all different generations. I guess I landed somewhere between the soul and reggae tip, and what my brother was listening to at the time, which was everything from grime to hip-hop.
How do you feel about the UK club scene at the moment? It seems like clubs are getting shut down all over the shop, but do you think that's part of the reason why you're getting this generic music because people aren't really consuming it the way they used to?
What, clubs getting shut down because no one wants to go and see the same line-up? I think a lot of DJs got lost and I noticed a lot of them have started playing hip-hop and stuff outside of their comfort zone. They're trying to cater to what's going on now, but people come to see them because they are what's going on now—so why go outside the box? I'm quite fortunate to be able to switch it up because I've always broadened my sets; I play pretty much 30-40 minutes of my own stuff and 20 minutes of whatever I'm into. The club scene, it's pretty mad to stand there and enjoy it now. I was talking to Sampha and we both agreed that we don't dance anymore. We're not excited about going to check this rave or that rave. You can pretty much start predicting sets and I hate that word 'generic', but when everyone's trying to be different, your different just ends up being the same thing. Just go out and be yourself as an artist and don't try anything else. There was a time when you'd run up to the DJ booth and be like, "Yo! What is that?" We don't feel that anymore. We're going to be doing our own parties, Know-Wave, where we go to different towns, take an artist from that town and see who they want to play, and just see whatever happens. No phones—just enjoy the night. Pay whatever you want, bring an artist, do whatever you want to make it special. We're going to do the first one in Bedford, probably around June. I think it's good for me because I want to introduce people to my town and also what I've been doing for the past five years. I think it would be cool for me to play a set that you've never heard me play before, like stuff I grew up listening to with my dad. No over-thinking.
When was the last time you genuinely had a good night out?
Whoa! Probably a Deviation night. I did Bugged Out Weekender in January, and it was a great set, but people kept on saying how the rooms were similar and that I had the most diverse set going. There were a lot of big names, and a lot of talk. Not from me, though—I was just listening.
Your manager, Scott, mentioned a project you have in the works with Virgil Abloh. Virgil has been flying the flag for UK music for a while now, but how did you come across each other?
I was introduced to Virgil via Benji B once at Deviation. He's been into my music for a while and I guess Benji put him up on the new stuff I was making and we started talking back and forth for a minute. He's a great dude. I've always loved how special vinyl releases felt and when you couldn't get hold of them, unless you had the vinyl or the producer sent you the tune. So I've been doing this white label straight for the club series for a few years now, where I just drop them randomly and it's a limited run. I had the idea to collaborate with Virgil for the vinyl, where he designs the artwork and packaging. It feels like a genuine collaboration from both worlds and it's looking amazing. I'm excited for people to hear the tunes. Keep it locked.