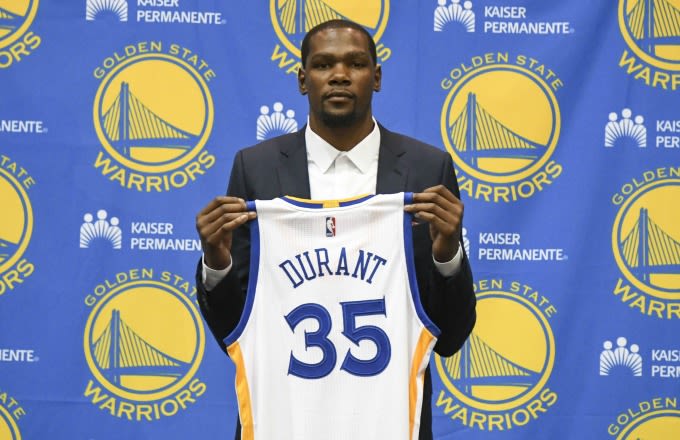 Shortly after Kevin Durant announced that he was going to be leaving the Thunder to sign with the Warriors in early July, Lil B made an announcement of his own. He revealed that, effective immediately, he was lifting the Based God Curse from KD, even though he had previously said that he would only do it if KD signed with the Knicks. He sent out this tweet to let the world know the curse had been removed from KD:
KD could have gotten rid of the curse much earlier, though. Over the course of the last few years, Lil B has said time and time again that the only thing KD needed to do to rid himself of the curse was play Lil B in a game of 1-on-1. And even though the curse has now been lifted, it sounds like Lil B is still expecting for that game to take place. In an open letter he penned for The Undefeated, Lil B said his 1-on-1 game against KD "still has to happen." He didn't say what would happen if KD doesn't agree to the game, but…do we really need to explain it? Here's an excerpt from Lil B's letter:
Our one-on-one game still has to happen. I think it's for the love of the sport. The world wants to see it — hundreds of thousands, millions of people. They want to know what would happen with this game. They're obviously interested.
Lil B also mentioned that KD shouldn't overlook him on the basketball court. He went as far as to compare himself to Russell Westbrook (wtf?!) and to say that he has "a lot of confidence now" and is "ready to play" KD. Here's another excerpt:
At this point, I like where I'm at right now with my game and how much better I've gotten. I'm a real defensive guy. My defense really speaks loudly, which rolls over on offense. I have a pretty decent midrange shot. I like getting to the rack. I like getting to the hoop. I'm kind of like Russell Westbrook, but I can't dunk. Just as far as going to the hole. I'm not saying all aspects of Russell Westbrook's game because I don't have the same aspects. I'm coming to the court with a lot of confidence now. It's definitely different. I definitely do think I'm ready to play KD. Winning, who knows? But I definitely know I am ready to play him.
KD hasn't responded to anything Lil B has said to him in quite some time, but at some point, these two have to play their game of 1-on-1 and get it over with, right? This feels like a job for Jimmy Kimmel.