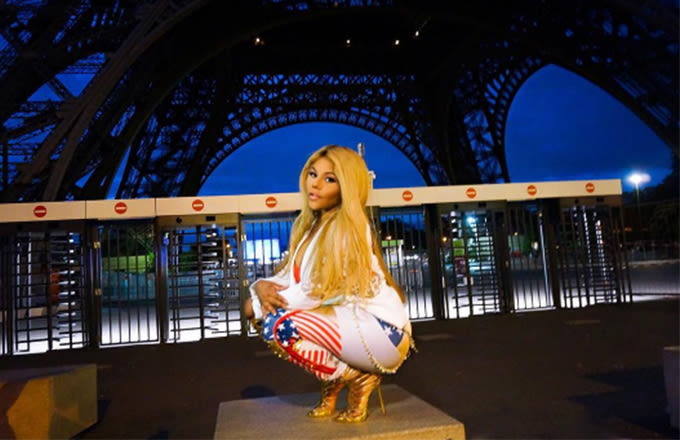 After a wild week of Rich Homie Quan receiving backlash for his botched performance of The Notorious B.I.G.'s "Get Money," Lil' Kim shares more details about the controversial incident on Sway in the Morning.
During her interview with Sway, Lil' Kim gave insider knowledge about her conversations with VH1 leading up to the Hip Hop Honors on Monday night. In regards to her tribute performance, Kim says she originally wasn't going to perform "Get Money" at all. She requested two major male artists to perform songs with her. When they canceled at the last minute, she made an executive decision with her team to add "Get Money" to her setlist.
From there, Kim explains she gave a list of her favorite artists to VH1 so they could reach out to them. She put names like Rick Ross, Nas, Future, Drake, and Fetty Wap, who all had prior arrangements and couldn't come to New York in time. When the list boiled down to a few names—including Rich Homie Quan—he immediately was down to show his support for her.
"He's a friend of mine, and I've known him for a little while," she says. "He's always good to me…and he didn't question anything. He just jumped on that plane. And the whole thing was he was coming to fuck with Lil' Kim. He was coming to support Lil' Kim. He did not know at that time that he was going to be performing 'Get Money.' He didn't know that."
Kim added that VH1 asked her to fill the gap in her performance, so she decided to add RHQ to "Get Money." "In my mind, everybody knows 'Get Money,'" Kim says, confirming to Sway that she heard him rap the verse during rehearsals before they did it live on television.
"He was very nervous," she continues. "He's such a good person. He was like, 'It's an honor that y'all would even put me in this position to fill such big shoes.'"
Since the performance, there have been tons of reactions from Biggie fans—one of them being Lil Cease, who told us he was disappointed that RHQ didn't take the opportunity "more seriously, more professional."
The Atlanta rapper has since apologized on Instagram, writing in a lengthy post: "I never intended to disrespect Biggie Smalls. I have long respected his work and his contribution to the rap game. I greatly apologize not only to Biggie Smalls, but also to all of my fans and to New York. The city of New York has been nothing but good to me."
For more of Kim's interview with Sway, listen below.