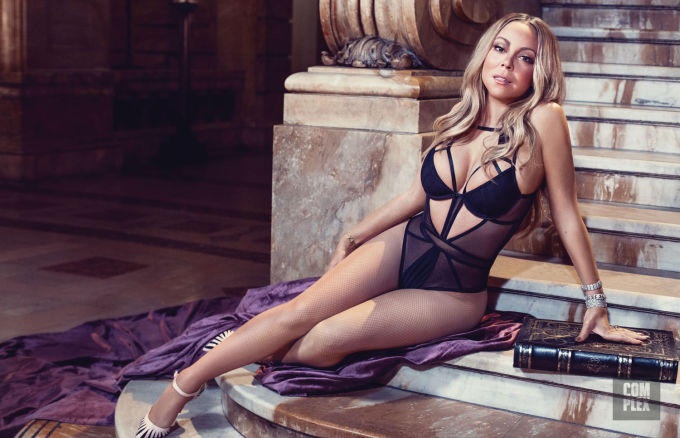 Earlier this year, Mariah Carey made headlines for her engagement to billionaire James Packer. The soon-to-be marital union comes in some part thanks to Mariah's friend, famous filmmaker Brett Ratner, who introduced her to Packer in 2015. Less than a year later, Packer put a ring on it, to the tune of 35 carats.
Even with the high-profile relationship, Mariah makes it clear neither of them want to let it get in the way of their respective careers. "I don't expect him to be at every little thing that I do, and vice versa," Mariah says in her new Complex cover story. "He's got a lot of stuff on his plate and so do I. There's a mutual understanding."
This is a balancing act Mariah is well aware of—she previously had marriages with actor/comedian Nick Cannon and music executive Tommy Mottola—and the legendary artist also realizes the difficulty that comes with it. "We would like for it not to be a big thing, but the reality is it has to be," she explains. "Because there's things that are specifically mine, and he's got huge friggin' conglomerate stuff and I'm not looking to take that from him. So it has to be dealt with. Anytime you get married to somebody [it does]—and I should know. This'll be marriage number three. My bishop said to me, 'I don't want you to go Elizabeth Taylor on me!' I said, 'I'm not'—and then I said 'Bye.'"
While Mariah doesn't go into major details about her fiancé, who she describes as a "a regular, normal person" ("he's a private businessman and there are a lot of things with his companies that I just can't talk about. It's just not good for me to do)," she does share Packer is a big fan of her music. "If he didn't like my music, then how would I be able to handle him being around when all I'm doing is creating?" she adds. "It's cool."
Read the full Mariah Carey cover story here and purchase the August/September issue here.