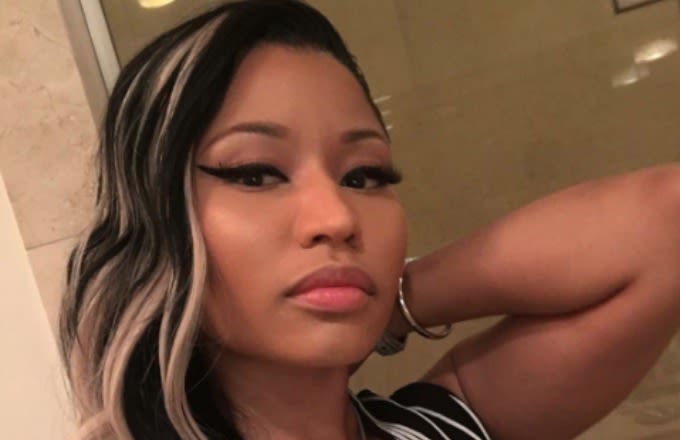 Nicki Minaj slammed her ex-boyfriend Safaree Samuels in a series of tweets early Wednesday morning and called him out for filing a lawsuit against her. She also accused him of trying to undermine her relationship with current boyfriend Meek Mill.
After Minaj celebrated Meek Mill's birthday last Friday by posting several messages about it on social media, she said she was hit with a lawsuit from Samuels on Monday. According to Minaj, the lawsuit accuses her of physical and mental abuse. "Two years later this poor excuse of a man is suing me & claiming to have been physically & emotionally abused. Lol. He's so miserable," she wrote on Twitter. "You can't even celebrate your happiness anymore w/o being victimized. Miserable ppl refuse to move on w/their lives."
Minaj then claimed Samuels has continued to email her in recent months despite Meek Mill warning him to stop. She also accused Samuels of trying to stir up drama for reality TV. Samuels has been seen with Love and Hip-Hop: Hollywood star Nikki Mudarris recently and is rumored to be joining the cast for the upcoming third season. "U really want me showing these emails?" she said in a subsequent tweet. "I know u need a story line to be on reality Tv. God punishing u & u bout to get more!!!!!"
Later, Minaj also claimed she once caught Samuels stealing money from her and didn't prosecute him. Additionally, she pleaded with Samuels to stop contacting her. "Stop emailing me u miss me!!!!" she wrote. "Putting on a show for the media then emailing me."
Minaj and Samuels split in 2014 after 12 years of dating, an event that Minaj said helped inspire her last album The Pinkprint. She has publicly been in a relationship with Meek Mill for over a year now. Rumors have been circulating for months about how Samuels was planning to bring a lawsuit against her, claiming he has been heavily involved in the writing of her albums.
You can check out all the tweets Minaj sent out Wednesday morning below.
Stay tuned for further information concerning Samuels' lawsuit.