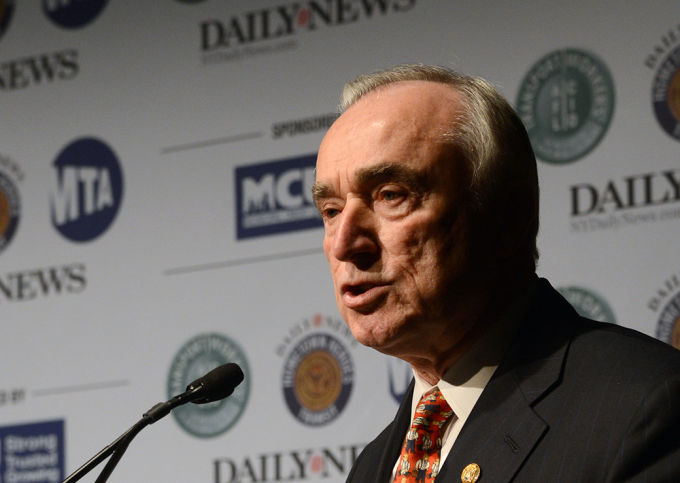 Hours after a deadly shooting at a T.I. concert in New York, NYPD commissioner Bill Bratton went on the radio to refer to some rappers as "basically thugs" who bring a history violence along with them in their entertainment careers. Bratton made the comments while speaking live to New York news station WCBS 880.
"The crazy world of these so-called rap artists who are basically thugs that basically celebrate violence they did all their lives, and unfortunately that violence often times manifests itself during their performances, and that's exactly what happened last evening," Bratton said.
After host Wayne Cabot referred to "thug culture" and asked if Bratton thought he'd "left that behind" in the 1990s when he first served as New York police commissioner, Bratton continued.
"The background of a lot of these young people, they are significant artists in that world…but unfortunately the lifestyles that they lived…often time follows them into the entertainment world and the success they have in it. … It's unfortunate. You'd like to think that with all the wealth that comes from the fame, that they'll be able to turn their lives around but they continue hanging out with the same people they hung out with when they came out of that world of desperation, poverty, and crime."
You can listen to Bratton's entire interview, beginning at around the six-minute mark, below.
The reaction on Twitter to Bratton's use of the word "thugs" came almost immediately.
The NYPD confirmed that one person was dead and three others were wounded after gunfire broke out late Wednesday night at the Irving Plaza concert venue near Manhattan's Union Square. The night's headliner, T.I., had not taken the stage, but openers Maino and Uncle Murda were reportedly performing when the shots rang out in the third floor green room area. The victims, which included a 33-year-old man who died at the hospital, have not been identified publicly. As of now, the NYPD is still investigating the case. Troy Ave was reportedly one of the men injured in the shooting, as his reps told Karen Civil that the Brooklyn rapper was grazed by a bullet, though he hasn't commented publicly. We'll continue to update this story as more details are made available.