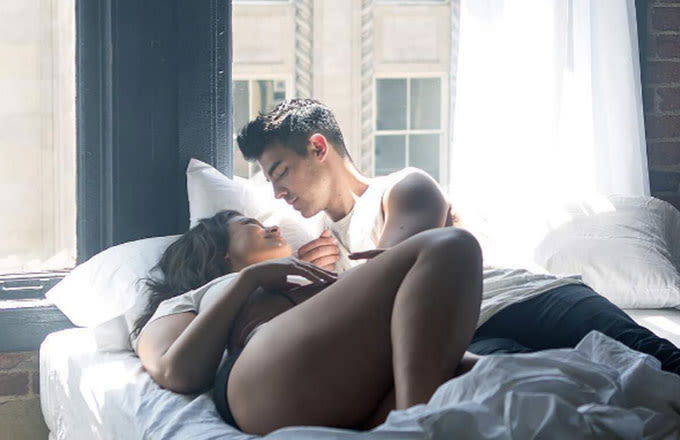 Ashley Graham first grabbed headlines earlier this year when she landed one of the elusive Sports Illustrated Swimsuit cover spots alongside Ronda Rousey and Hailey Clauson. Despite Graham's years of experience in the industry and stunning good looks, it was her "plus-sized" physique that seemed to be the center of attention when she was announced as one of the cover models. Since then, Graham has proven she's not one to be distracted by frivolous internet comments and has certainly kept busy. Between shooting campaigns for Lane Bryant and partnering up with Sephora, the model also found the time to star in DNCE's latest video for "Toothbrush."
The music video for the Joe Jonas-fronted band shows the model and singer in a number of romantic music video clichés: pillow fight, dancing in their underwear, and even a steamy make out session in a stairwell. There is one thing that can't be considered a cliché though—the casting of a model with Graham's size measurements in this role. Graham has rose to be a prominent voice for models of all sizes so the choice to cast her as the female lead in a former Jonas Brother's video comes at a time when the industry is changing, albeit​ slowly, its view on "plus" models. Historically, it's been painfully obvious that the "girlfriend" type in most mainstream music videos tends to be almost exclusively tall, tiny, and skinny.
In a recent interview with Glamour, Jonas spoke candidly about his band's decision to cast Graham in the role. "To be honest, we really only had one girl in mind," he said. "I just find Ashley Graham so beautiful." For her part, Graham told Glamour she and Jonas "hit it off" immediately, and that the experience was "a dream come true."
The lack of size diversity isn't only limited to music videos. Earlier this month, The Fashion Spot's latest diversity report found a serious lack of representation from models with "less-traditional" sizes. Plus-size models were featured only six times in total within their research, clocking in at less than 2 percent of the model appearances included in the review. With models like Graham and Aerie's Iskra Lawrence gaining major exposure, it's safe to say that the tides are finally starting to turn and our society is hopefully working towards more diverse representation of body types in mainstream media.