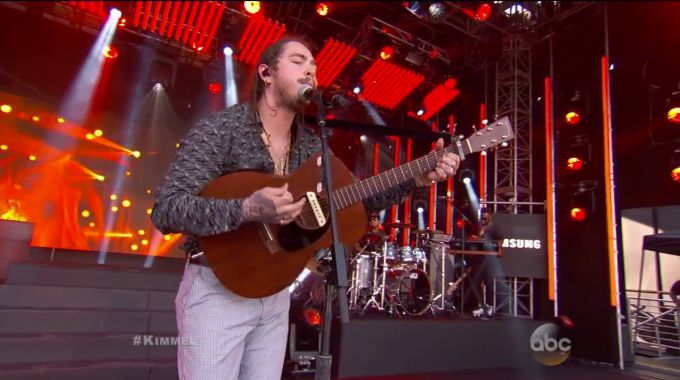 Post Malone put a rootsy spin on his latest single "Go Flex" to close out Wednesday night's episode of Jimmy Kimmel Live. The Dallas rapper took the stage after a Ghostbusters-themed episode featuring the stars of both the original film and the upcoming remake. Strumming an acoustic guitar and accompanied by a three-piece band, Malone sang and played through a re-arranged version of the tune. The original's synths, backwards sounds, and drum machine were replaced by a countrified electric guitar and a more straightforward rock groove, though the trap hi-hats on the recorded version were still in evidence.
The stage setup mirrored the song's video, with the band set up around a burning trash can.
Reaction from fans to Malone's new sound was mixed.
Malone is currently on tour with Justin Bieber. The Purpose World Tour runs through July 19th, and there are reports that Post's debut studio album may be released the following month. In the meantime, "Go Flex" is available on iTunes, and you can check out Post's most recent mixtape August 26.