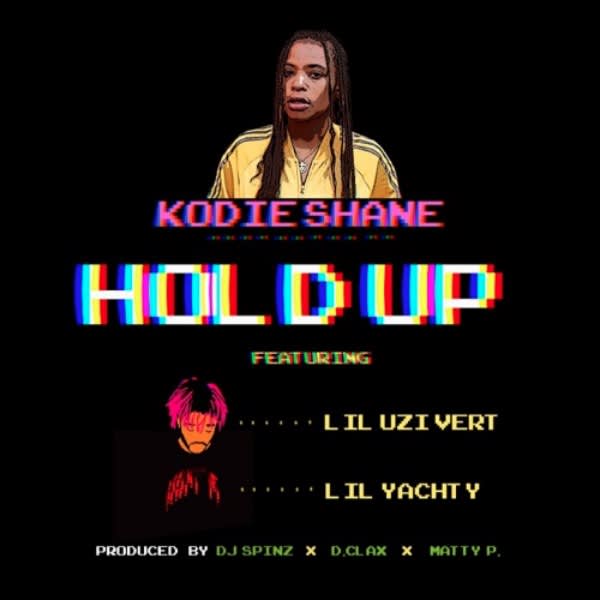 Lil Yachty put his whole Sailing Team crew on with is own success, and now they're starting to make some big moves of their own. First up is Kodie Shane. She appeared on the Sailing Team's posse cut "All In," as well as their Keep Sailing short film. Now, she's recruited Yachty and Lil Uzi Vert for her new track "Hold Up."
The song falls in line with the heavily distorted, "Bubblegum Trap" style that Yachty came up on, but adds her own spin to it. Over a plucky, bubbly beat made in collaboration by DJ Spinz, D.Clax and Matty P, Kodie warbles her opening verse. "Rubber band in my left hand/Hopping out the coup, 30 bands in my right hand/All my ice, man/Spent that on my ice, man/I just crashed it and I only drove it twice, man."
Uzi Vert hops in afterwards to lay down the catchy chorus. "Like hold up/Hold up/Why you so broke, get your dough up/Pull up in that skkrt, pull my doors up." Eventually, Yachty comes in to round things out, and the track comes together in all its syrupy, Auto-Tuned glory.
With Yachty gaining popularity, it was only a matter of time before some of his Sailing Team crew started to branch out in a similar lane. Kodie Shane already dropped her Lil Rocket EP earlier this year, and now she's ready for more with "Hold Up."
You can stream Kodie Shane, Lil Yachty, and Lil Uzi Vert's new track "Hold Up" below via SoundCloud.