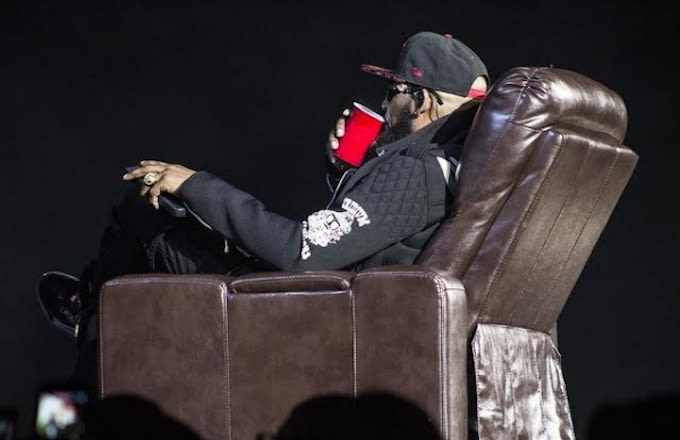 Do you remember last month when the internet clowned R. Kelly for watching Kobe Bryant's last NBA game on a tiny television while sitting in a blank white room? In Twitter time, it seems like a million years ago now, but people really went after The Buffet singer in a way that was both vicious and hilarious. Here are a few examples:
@rkelly is that an iPad on your wall?

— Lorenzo M. (@LoMed1978) April 14, 2016
@rkelly @kobebryant @LoMed1978 #RKellyStyle pic.twitter.com/E2yMyxvh4f

— Scott Schlee (@sschlee) April 14, 2016
.@rkelly @kobebryant Here is the other side of that picture… pic.twitter.com/0CzQJGVXls

— Couch Correspondent (@notkerouac) April 14, 2016
Well, apparently the entire incident really stuck with R. Kelly and during his concert in Chicago he responded to the haters in a big way. The "Ignition (Remix)" crooner did what any sane sports-loving superstar would: he ordered out a big comfy recliner, grabbed a drink, turned his back on the thousands and thousands of fans who turned out to see him, and watched some of the highlights from the game on the massive 50-foot screen he had as part of his stage setup.
But it wasn't just Kobe's last game that R. Kelly viewed either. I mean, with a screen that large you really have to see what it can do, so he also watched the "Jake From State Farm" commercial before jumping over to Netflix and dialing up the Eddie Murphy/Martin Lawrence classic comedy Life.
Was it petty? Maybe. But you have to give R. Kelly props for turning the shade around on its head and maybe getting the last laugh.