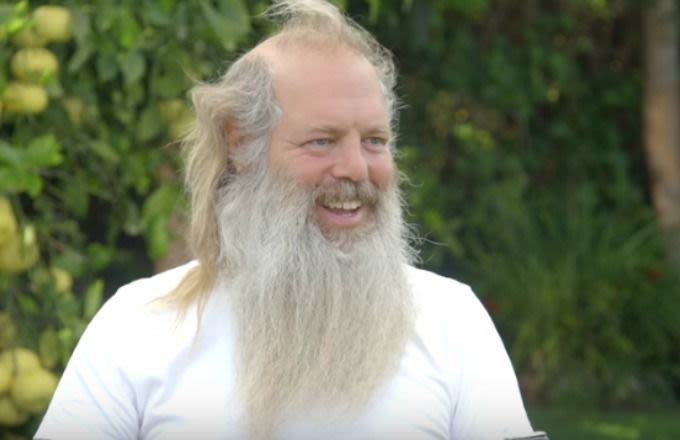 Music master Rick Rubin is gearing up to release a new album titled Star Wars Headspace that features electronic producers and musicians taking the sounds of the epic franchise and updating them to today's era. Zane Lowe offers up the first taste by premiering Flying Lotus' contribution, "R2 Where R U?," Baauer "Cantina Boys," and even Rick's track "NR-G7." The rest of the album features GTA, Kaskade, A-Trak, and even The Force Awakens director JJ Abrams.
Flying Lotus tells Zane this is really the brainchild of musical Yoda Rubin. "I think all this kind of started with Rick Rubin. He kind of handpicked all the people he wanted to be part of this thing. And I'm just flattered to be involved in this thing. At the same time, it makes sense. I just feel close to these sounds." As far as how it came about, he explains that they got sent a huge sound archive from the Star Wars team. The one rule? "Just don't sample any John Williams music. Don't mess with that John Williams though!" Also worth noting is that Flying Lotus says he believes we will get a new album from him by the end of 2016. "This is hopefully going to be my most prolific year. I'm gonna release a lot of stuff."
Listen to Flying Lotus' "R2 Where R U?" and check out the full tracklist for Star Wars Headspace​ below. The album drops digitally Feb. 19 and will be in stores a month later.
Today's #WorldRecord @flyinglotus #StarWarsHeadspace pic.twitter.com/CpGUj5cETd

— Zane Lowe (@zanelowe) February 8, 2016
http://uk.complex.com/music/2016/02/rick-rubin-star-wars-headspace-features-atrak-flying-lotus-kaskade