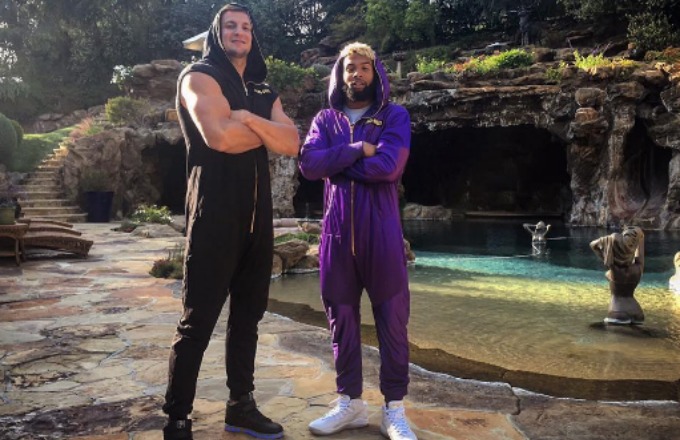 Drake's pool has had one hell of a year. In January, Drake rapped about it being bigger than Kanye West's pool on his song "Summer Sixteen." In April, Odell Beckham Jr.—who spent the NFL offseason living with Drake—danced by it in a video that quickly went viral. And now, Madden 17 cover boy Rob Gronkowski is talking about it in the latest clip from his recent DraftKings interview with Katie Nolan.
Shortly after Beckham Jr.'s dance video started gaining momentum online, a photo of Gronk and OBJ hanging by Drake's pool—in onesies, no less—appeared on Gronk's Instagram:
And while speaking with Nolan, Gronk revealed how he ended up next to Drake's pool in the first place. We'll let him tell that part of the story in the video above—let's just say a guy named "Moose" played an integral part in Gronk getting invited to the OVO estate, because of course—but after explaining how he ended up at Drake's pool, Gronk revealed his favorite part of it. It seems he fell in love with the bar that Drake has tucked away behind a waterfall.
"He has a bar underneath a waterfall type of thing in the back corner of the pool," Gronk revealed. "It was crazy. I was pretending I was cool like, 'Yeah, you want a drink, Moose?'"
Go Drake. If Gronk likes your bar, it must be official. Check out the clip above to hear him talk more about his trip to Drake's house.
Send all complaints, compliments, and tips to sportstips@complex.com.