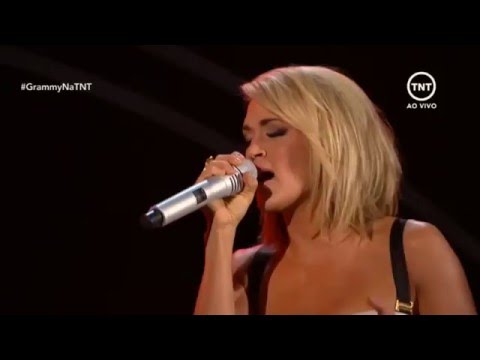 Carrie Underwood and Sam Hunt performed their song "Heartbeat" for the first time onstage at the 58th Grammy Awards. Underwood's latest single off her Storyteller album, the studio version of the power ballad features Hunt supplying harmonies, but on the Grammy stage, the Best New Artist nominee took his own verse, making it a bonafide duet.
The duo also teamed up for Hunt's "Take Your Time," with Underwood in a flowing white skirt, strutting toward the former college football star, dressed down in a white T-shirt. The song, after just one verse and chorus, segued into "Heartbeat," before driving headlong back into a chorus of "Take Your Time." It was a seamless if harmless transition, with both songs matching up note for note.
Underwood told Rolling Stone Country prior to the performance that theirs would be a true collaboration. "We're doing some stuff that will be really cool. It's some mixing going on. We're both equally highlighted," she said.
While Hunt made his Grammy debut, Underwood, who was nominated for Best Country Solo Performance for "Little Toy Guns" but lost to Chris Stapleton's "Traveller," is no stranger to the ceremony.
"I've done a lot on my own and as part of collaborations and honoring people," she said of her past appearances. "There is always a few of us there to rep country music. I'm honored to get to do that."
http://www.rollingstone.com/music/news/see-carrie-underwood-and-sam-hunts-heartbeat-mash-up-on-the-grammys-20160215