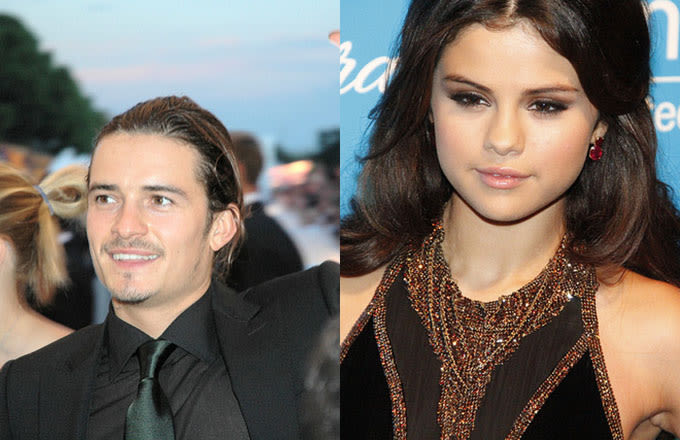 Selena Gomez and Orlando Bloom seemingly can't keep their hands to themselves, and new photos that emerged Tuesday from their weekend in Las Vegas can prove it. Gomez, 23, was spotted getting close with Bloom, 39, at Mandalay Bay's nightclub Light May 6. Like really close. Gomez was at the club celebrating the first stop on her Revival Tour, and Bloom reportedly joined her at the last minute.
TMZ got ahold of security camera footage from Light, which shows the two cuddling up to one another in a booth. In one photo, Gomez leans in for what looks like a hug, but in another photo the two appear to be kissing.
Orlando Bloom was caught with Selena Gomez the same night Katy tweeted about wanting to grow old with him. 🙁 pic.twitter.com/r57XDuoKp9

— Shady Music Facts (@musicnews_shade) May 10, 2016
What's the big deal? Bloom is rumored to be dating Katy Perry. In fact, he and Perry were most recently spotted together after the Met Gala, US Weekly reported. Perry spent the weekend at the Renaissance Festival in Irvine, Calif. and has not yet commented about the photos.
Gomez and Bloom reportedly became close after their respective exes, Justin Bieber and Miranda Kirr, were seen flirting at the Victoria's Secret Fashion Show in 2012. Gomez and Bloom were last photographed together sitting on the curb following Chelsea Handler's Uganda Be Kidding Me show in Los Angeles in 2014. Later that year Bloom confronted Bieber in Ibiza, with Bloom reportedly throwing hands and Bieber fleeing the from the confrontation.
Bieber may have been more than happy to move on from Gomez in 2012, but he since seems to have changed his tune. His Instagram behavior reflects a thirsty desperation for the time he could call Gomez his girlfriend.
As for Gomez, she appears to be over any attempts to reunite the pop stars. When a fan carried a sign pleading for Gomez to get back together with Bieber during her Fresno, Calif. show May 8, she reportedly showed everyone what she thought by crumbling it up.