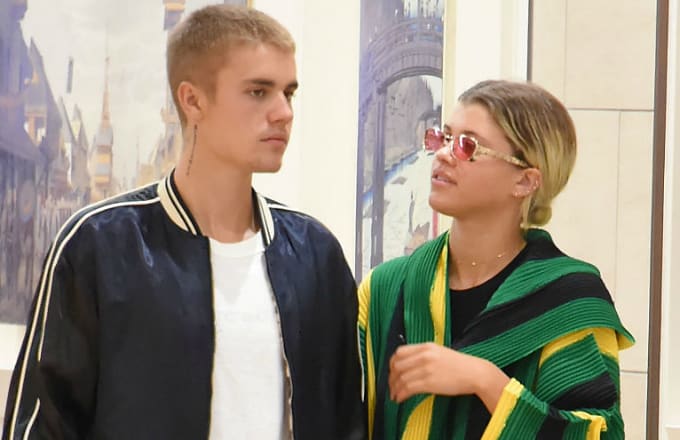 After walking down the runway for Yeezy Season 4, Sofia Richie has been unveiled as the cover star of Billboard's latest Style Issue alongside Rae Sremmurd. The model and rumored girlfriend of Justin Bieber spoke with the magazine about her relationship with the singer.
Richie and Bieber have yet to confirm their status, but the couple has been spotted together on several occasions. Last month, Bieber posted a series of pictures of the two together on his Instagram, which fueled rumors that they were dating. Beliebers, unhappy with the prospect of a new relationship, began harassing Richie in the comments. The photos even drew the attention of Selena Gomez, who called him out for being mad at his fans, which caused Bieber to end up deleting his entire account. 
In her Billboard interview, Sofia said, "We have a special relationship. Justin is very easy to talk to, and that's hard to find with people in Los Angeles."
Their "special relationship" has also been followed by the paparazzi, and Sofia said watching her older sister Nicole deal with the paparazzi helped her. "I remember the paparazzi and the shit people would say to Nicole, and she wouldn't respond," she said. "I'm going to be real with you: It. Doesn't. Bother. Me. As long as I'm happy."
TMZ recently asked Sofia's famous father Lionel Richie about his daughter's relationship with Bieber, and he awkwardly responded, "I'm not going there. I have strict orders not to go there."
Bieber didn't appear to be present at Kanye West's recent fashion show in New York City, where his new squeeze walked the runway.
Looks like we will have to settle with "special relationship" as their status for now.
To read the entire interview head here.
Style Issue: @RaeSremmurd on their edgy fashion, "fairy tale" success & silencing doubters https://t.co/PbenHYKKnt pic.twitter.com/Qhm9TYR26q

— billboard (@billboard) September 8, 2016