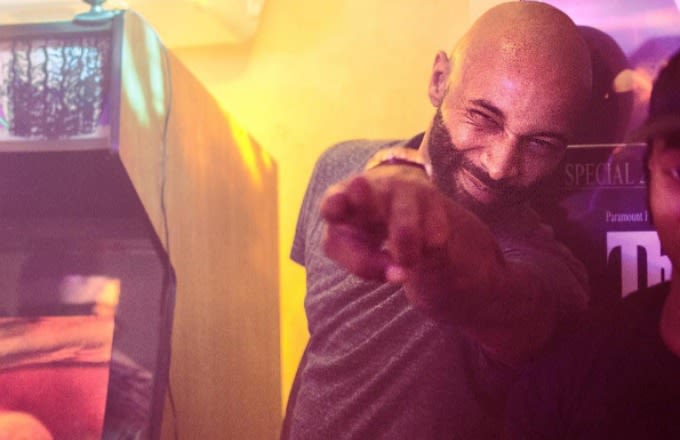 Joe Budden didn't seem too pleased when two dudes rolled up on him with their phones recording in his driveway so he quickly chased them down by car, and the whole thing has exploded into a legion of memes on the internet.
"This is not the internet," the rapper told the guys as they're standing outside their car. "I will kill one of you." "I'm sorry, I understand," one of the fans says. "I'm sorry." Unfortunately for Budden, this is the internet and the incident fueled meme that made the rapper a worldwide trending topic on Twitter.
People couldn't resist placing Budden in a level of Temple Run, on the streets of the new Grand Theft Auto trailer, or next to Will Smith in Bad Boys. There's also hope that Budden will represent the U.S. in track and field in the upcoming Rio Olympics.
The memes seemed to amuse Budden, who took to Twitter to praise the internet's creativity. "These are some of the greatest memes ever, but I truly hope u kids don't make running up to ppl's homes a thing. It's dangerous." Somewhere, we bet Drake is already plotting how to get the meme spotlight back on him. Check out all the memes below and relive the chase here.
2. RT @DailyRapFacts: Joe Budden chasing the OVO fans down pic.twitter.com/Q5rtw2QGOD

— CAVS 2016 CHAMPIONS (@LBgotSOLE) July 25, 2016
"@GloUpElite: Y'all…. Joe. Budden. Temple Run. pic.twitter.com/HkZcdRkOSF" 😭 y'all dumb

— G (@Msminxalot) July 25, 2016
💀💀💀 RT @PhillyCustoms: Joe Budden was running like he was in Terminator 2 pic.twitter.com/OUB3Rzuxv4

— Jon Boy' (@MacArthurDean) July 25, 2016
I think we found our answer to how we combat terrorists – Joe Budden#JoeFREAKINBudden pic.twitter.com/eHZbnRBfdm

— puppits (@BunchOfPuppits) July 25, 2016
What I say 😭 RT @bk17__: Heard Joe Budden is on the new Grand Theft Auto Trailer pic.twitter.com/xDjPKSdYcf

— Tripz™ (@Tripzy) July 25, 2016
Heard Joe Budden was on that #BadBoysIII LMAO pic.twitter.com/BYorESnhsJ

— AyyDot #EBM (@ProdByAyyDot) July 25, 2016
Joe Budden will now be apart of the USA relay team in the Rio 2016 Olympics‼️💀💀💀💀💀💀😂😂😂😂😂💀💀💀💀💀😂 pic.twitter.com/3OS2vhia2W

— 6'4&HandSome✊ (@ThatBoiAlexTho) July 25, 2016
Lmaooo Joe Budden gotta chill. 💀💀💀💀💀💀💀💀💀😂😂😂😂💀😂😂😂😂😂😂😂😂😂 pic.twitter.com/e7ddeGp0kQ

— 6'4&HandSome✊ (@ThatBoiAlexTho) July 25, 2016
Joe Budden running like his name was Ethan Hunt #missionimpossible pic.twitter.com/8uHndRnquC

— J. Jessamy Dorsey (@downwithdorsey) July 25, 2016
Joe Budden been wilding all day https://t.co/MMozGZ2qj4

— Lil Harambe (@LilRookwood) July 25, 2016
" You got a small spot on Ya windshield, I'll clean it off for some Mad Dog 20/20 and a pack of Malboros" pic.twitter.com/nx6nHw6hME

— Aneer (@Aneerinyourear) July 24, 2016
@CjayyTaughtHer Joe Budden out here chasing cars like Tyrese Gibson in Waist Deep 😂😂😂 pic.twitter.com/lbcETDNsCg

— Prince Perseus (@PrinceBoogie1) July 25, 2016
Joe Budden was behind their car like pic.twitter.com/LcDbsRMG0k

— Charismatic Fat Dude (@Jae_The_Host) July 25, 2016
These @JoeBudden memes are hilarious but fair enough to him you can't be entering a guys house like that💮 pic.twitter.com/ma1pIjLsuV

— Social Couture (@Social_couture_) July 25, 2016
"JOE BUDDEN….RUUUUNNNNN" pic.twitter.com/SPVECPZonw

— Misty Knight's Afro (@Steph_I_Will) July 25, 2016
These are some of the greatest memes ever, but I truly hope u kids don't make running up to ppl's homes a thing. It's dangerous.

— Joe Budden (@JoeBudden) July 25, 2016