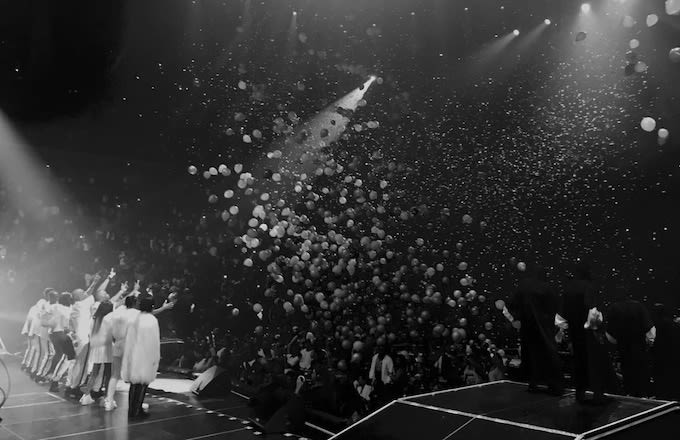 It had been rumored for years, talked about for months, and finally, last night at the Barclays Center in Brooklyn, New York, Bad Boy lived again. Taking place on what would have been the Notorious B.I.G.'s 44th birthday, the concert was an incredible, star-studded affair that featured appearances from Jay-Z, Nas, Mary J. Blige, Faith Evans, Busta Rhymes, Ma$e, Lil Kim, 112, Total, Jadakiss and the Lox, Carl Thomas, French Montana, Rick Ross, Usher, Mario Winans, Ty Dolla $ign, Black Rob, and Lil Cease. The star of the night, of course, was Bad Boy label head Puff Daddy, who at one point donned a fur coat so large that it took two other guys to help carry it.
The show opened with a performance by Puffy of "Victory" accompanied by Busta Rhymes. Puff then ran down a few of his hits before being joined by Ma$e on "Can't Nobody Hold Me Down" and "Been Around The World." After that, the boss departed the stage to make way for 112, who was followed by the Lox, Carl Thomas, and an incredible set from Faith Evans.
One of the biggest surprises of the night came about midway through the show when Jay Z made an appearance for a fitting performance of "Where I'm From" followed by "PSA." If that weren't enough, Hov was followed up by his one-time nemesis Nas, who busted out the songs "Hate Me Now" and "Made You Look" alongside Puff wearing that aforementioned insane fur coat. A trio of New York's finest.
The show finally came to a close several hours after the start time following appearances by Lil Kim, Usher, and Mary J. Blige, with Puff performing his tribute to B.I.G., "I'll Be Missing You," with help from Faith Evans and a full-on church choir. It was a night that will almost certainly go down as one of the greatest collections of talent ever assembled on one stage in rap history. And for those that missed out, fear not. Puff and company plan on hitting the road this summer to bring the Bad Boy reunion to an arena near you.
Check out the full set list, along with some choice clips down below.
Puff Daddy
"Victory" (Featuring Busta Rhymes)
"Mo Money, Mo Problems
"Finna Get Loose"
"Bad Boy For Life"
"I Get Money (Remix)"
"Can't Nobody Hold Me Down" (Featuring Ma$e)
"Been Around The World" (Featuring Ma$e)
112
"It's Over Now"
"Dance With Me"
"Peaches N' Cream"
Total
"Trippin'"
"No One Else"
"Kissing You"
The Lox
"We Gon' Make It"
"Good Times"
"Wild Out"
Carl Thomas
"Emotional"
"Summer Rain"
"I Wish"
Faith Evans
"No Other Love"
"I Love You"
"You Gets No Love"
"You Used To Love Me"
"Soon As I Get Home" (Featuring Puff Daddy)
French Montana
"Hot N—a's (Remix)"
"Ain't Worried 'Bout Nothin'"
"Ocho Cinco" (Featuring Puff Daddy and Red Cafe)
"Off The Rip" (Featuring Puff Daddy)
"Stay Schemin'" (Featuring Rick Ross)
"Pop That" (Featuring Rick Ross)
Puff Daddy
"Angels"
Jay Z
"Where I'm From"
"PSA"
Nas
"Hate Me Now" (Featuring Puff Daddy)
"Made You Look" (Featuring Puff Daddy)
Busta Rhymes
"Pass The Cîroc" (Featuring Puff Daddy)
"Put Your Hands Where My Eyes Can See" (Featuring Spliff Star)
Lil Kim
"Quiet Storm"
"Big Momma Thang"
"F–k You Up" (Featuring Puff Daddy)
"Lighters Up"
"Queen B—h"
Ma$e
"Feels So Good"
"What You Want" (Featuring Puff Daddy)
112
"Cupid"
Mario Winans
​"I Don't Want To All"
Cassie
"Me & U"
Usher
"U Don't Have To Call" (Featuring Puff Daddy)
"I Need A Girl Pt. 1" (Featuring Puff Daddy)
"I Need A Girl Pt. 2" (Featuring Puff Daddy and Mario Winans)
"Bad Girl"
Puff Daddy
"Hypnotize"
"Love and Happiness"
"You Could Be My Lover" (Featuring Ty Dolla $ign
Mary J. Blige
"Real Love"
"Be Happy"
"Loving You Everday"
"I'm Going Down"
Puff Daddy
"Freestyle"
"Warning"
"Juicy"
"One More Chance"
"Only U" (Featuring Ma$e
Total
"Can't You See"
Black Rob
"Whoa"
Lil Cease
"Player's Anthem"
Puff Daddy
"All About The Benjamins" (Featuring the Lox and Lil Kim)
Lil Kim
"Get Money (Remix)"
Puff Daddy
"Mo Money, Mo Problems"
"I'll Be Missing You" (Featuring Faith Evans)