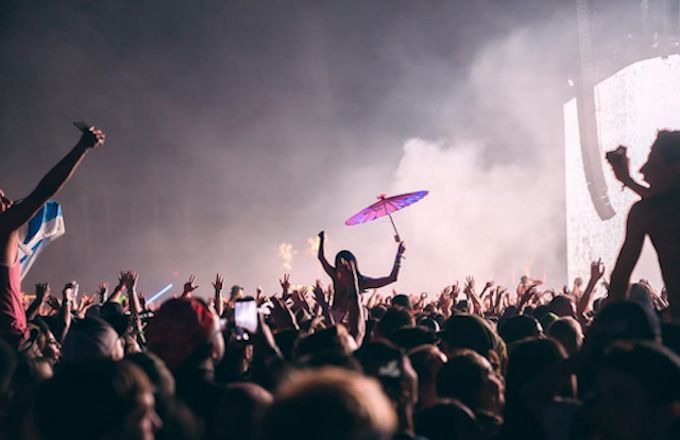 Coachella Valley Music and Arts Festival celebrated its 17th run this weekend with a typically diverse lineup of reunited legends, EDM giants, and up and coming alternative artists. Generations and genres collided as fans of Guns and Roses mingled with those of Calvin Harris and Anderson.Paak. Guest appearances have become a festival staple, and this year was no different, as artists all across the board recruited stars from an array of fields, including politics and standup comedy. We pulled together clips of the most surprising and scorching cameos to cap off a stellar opening weekend.
Rihanna Performed "We Found Love" With Calvin Harris
Coachella 2016- Calvin Harris *Surprise Rihanna Appearance* for "We Found Love" (1080p) 4-17-2016
Taylor Swift's beau brought out Queen Rih for a surprise performance of their 2011 slapper, "We Found Love."
Bernie Sanders Introduced Run the Jewels
Killer Mike's homie Bernie Sanders introduced Run the Jewels ahead of their set with a pre-recorded message.
Nas Performed with Run the Jewels

Killer Mike kept the cameos rolling by inviting the hip-hop legend for a scorching rendition of his classic, "Made You Look." Nas returned the favor by deeming RTJ his "favorite band."
Kesha Took on Zedd's "True Colors"
Kesha Performs "True Colors" Live with Zedd at Coachella Music Festival 2016
Rising from the drama of her widely publicized suit against Dr Luke, Kesha joined EDM superstar Zedd for a powerful performance of the emotionally-charged track.
Lorde and Disclosure Performed "Magnets"
Another short video of Disclosure with Lorde tonight at Coachella singing Magnets.
04/16/2016 pic.twitter.com/NanRC6h0If

— Lorde WorldWide Net (@Lorde_WWN) April 17, 2016
The pop singer took the stage with Disclosure to recreate one of the biggest singles of 2015.
Sam Smith and Disclosure Slayed "Latch" and "Omen"
Disclosure + Sam Smith at Coachella 2016 special for Nikita (don't hate me)
Gifting fans with some past favorites, Sam Smith showed up for fiery a performance of "Latch" and "Omen."
Guns N' Roses Rocked Out with AC/DC Guitarist Angus Young
Guns N' Roses with Angus Young at Coachella (1) 2016.4.16
Coachella took a trip down memory lane when Guns N' Roses returned with an electrifying reunion set. But the performance really lit up when they brought out AC/DC guitarist Angus Young for spectacular renditions of "Whole Lotta Rosie" and "Riff Raff."
Kristen Wiig Channeled Sia
In the most bizarre and hilarious turn of the weekend, comedian Kristen Wiig took the stage to parody Sia's poignant power ballad, "One Million Bullets."
T.I Joined Anderson.Paak
Piling on the success of his outstanding 2015 album Malibu, the West Coast singer brought out hip-hop veteran T.I for a surprise duet of "About the Money" and "Bring Em Out."
Grimes and Janelle Monáe Endorsed Bernie Sanders
OK @Grimezsz + @JanelleMonae live is the best thing that's ever happened to me pic.twitter.com/s72U5GYWMX

— HANA (@HANAtruly) November 12, 2015
Electropop darling Grimes invited Janelle Monáe on stage for an energized performance of their collaborative dance track "Venus Fly" before an image of Bernie Sanders on the big screen.
DJ Mustard and YG Reunited on Stage
DJ Mustard delighted rap fans by bringing out YG for a dizzying medley of "My Nigga," "Who Do You Love," and "FDT."
Kanye West Joined ASAP Rocky to Perform "Father Stretch My Hands Pt. 1"
A$AP Rocky Brings Out Kanye West (Coachella 2016)
Ye crashed the end of Rocky's set with what promised to be something spectacular, but a microphone malfunction forced the two off the stage after two minutes of inaudible rapping.